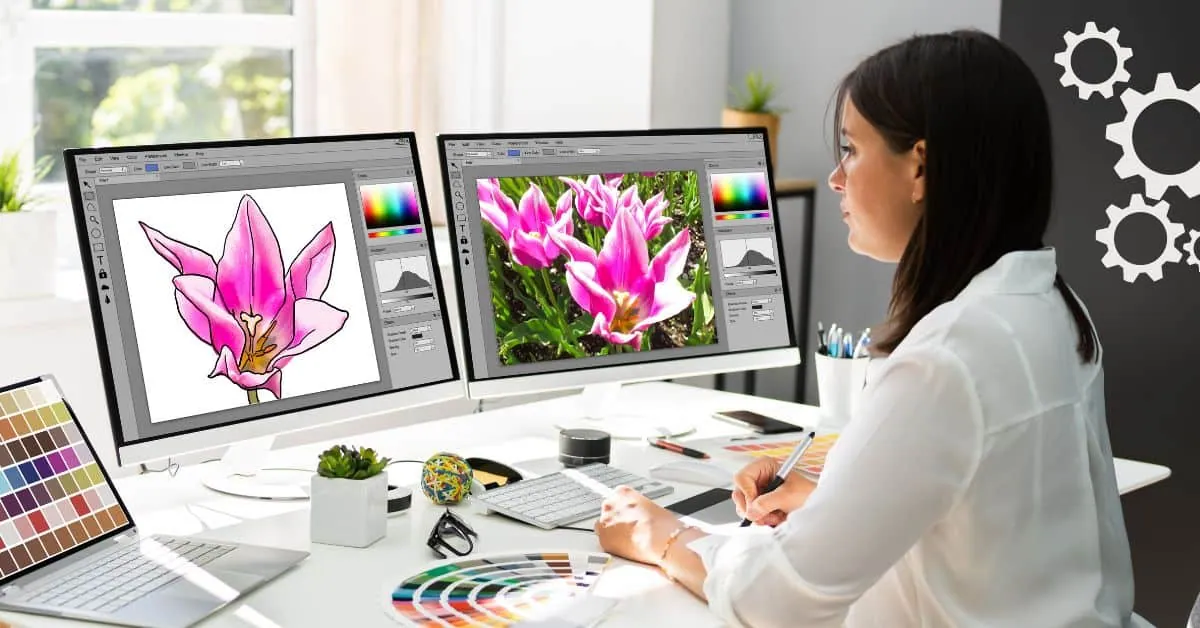 Choosing the right software can make a massive difference in productivity, efficiency, and quality if you're running a screen printing business. With so many software options available, deciding which one to choose can take time.
In this article, we'll review the best screen printing software programs available, including graphic design software, color separation software, management software, and additional tools you need to grow your screen printing activity.
What is the best screen printing software?
Let's review the best screen printing software options for design, color separation, and management:
Graphic Design Software for Screen Printing
1 – Adobe Illustrator
Adobe Illustrator is popular among screen printing professionals because it works well with vectors. Clients should provide vector graphics instead of photos for screen printing. Indeed, you can resize vector art without losing detail or resolution. Vector artwork is also compatible with DTG printers.
As you see, Illustrator is a leading design software specially designed for creating vector graphics. It's the industry standard for vector design, and it offers a streamlined user experience and a range of tools that make it easy to create high-quality designs. I recommend you buy it as part of the Adobe Creative Cloud software suite to save money.
2 – Adobe Photoshop
Best for professional designers
Photoshop is one of the most popular design software programs for screen printing, and for good reason. This powerful tool allows you to create and edit high-quality raster images.
It's specifically designed for graphic designers and artists, so if you're looking for software that offers advanced design features, Photoshop is the way to go.
Photoshop is part of the Adobe Creative Cloud software suite, with Illustrator, InDesign, and other graphic design software. You will save money choosing Creative Cloud instead of buying Photoshop as a standalone product.
3 – Canva
Canva is an excellent option for those who want to create designs quickly and easily without learning advanced design tools.
Over 100 million people use Canva to create their designs quickly and professionally.
It's a web app that offers a range of templates and design tools, making it easy to create designs for t-shirts, flyers, and more. It's free to use, with additional features available for a monthly fee.
4 – CorelDRAW
CorelDRAW is another popular design software program specifically designed for vector graphics. It's a powerful tool that offers a range of design tools, including color selector tools and color separation tools, making it an excellent choice for screen printing. It's available for a one-time purchase or a monthly subscription fee.
5 – Affinity Photo and Affinity Designer
Affinity Photo and Affinity Designer are two separate design software programs specifically designed for raster and vector graphics, respectively. They offer a range of powerful design tools and are an excellent option for those who want a high-quality design tool without the monthly subscription fee. They're available for a one-time purchase.
Affinity Photo
Affinity Photo is an image editing software that provides an affordable alternative to Adobe's Creative Cloud Suite. It is available for Mac, PC, and iOS platforms. It offers a range of features suitable for artists, novices, and screen printers.
Its best features include raster editing, seamless editing of raster images, and basic color separations. Although it has a moderate to high difficulty level, its user interface is streamlined, and frequent updates are based on customer feedback.
Affinity Designer
Affinity Designer is a versatile design software offering vector design and raster image processing technology. It's available for Windows, Mac, and iPads. This award-winning software is designed for professional use, with the ability to handle large images and multiple projects simultaneously, along with helpful features like keyboard shortcuts.
Affinity Designer also offers various color control options to prepare designs for printing. At $54, this tool is an excellent investment for those looking to take their designs to the next level.
6 – Inkscape
Inkscape is a free and open-source vector graphics editor that's an excellent option for those who want to create vector graphics without paying for expensive software. It offers a range of design tools and is a great option for those who are just starting out with vector graphics.
7 – GIMP
GIMP is another free and open-source image editing software that's a great alternative to Photoshop. It offers a range of powerful design tools, including raster editing and design tools. It has a steep learning curve, but it's convenient for those who want a high-quality design tool without paying for expensive software.
8 – Graphix Pro Studio
GraphixPro Studio offers a simplified design manipulation toolset that's perfect for those who don't need advanced vector design capabilities. It comes with an extensive range of font options, color-matching tools, and a quote generator, making it ideal for small businesses.
However, with a one-time purchase price of $900, it's not the cheapest design software out there. This program is geared more towards those in the screen printing business rather than those who screen print as a hobby. Still, it's worth a look if you need these business-related tools.
Color Separation Software for Screen Printing
Color separation software is an essential tool for screen printing. It allows you to separate artwork into different colors, which can then be burned onto screens for printing. Here are some of the best color separation software programs available:
Separation Studio
Separation Studio is a color separation software explicitly designed for screen printing. It offers tools to separate artwork into different colors and can separate designs into up to 6 spot colors. Although it has a steep learning curve, it is one of the industry-standard software for professionals who require precise and high-quality color separation for screen printing.
Freehand Separation Studio 4
Freehand Separation Studio 4 is a powerful color separation software that helps users create high-quality color separations quickly and easily for screen printing. Its standout features include the ability to separate images into up to 10 colors and its use of halftone technology for producing smooth gradients and shades. Although it has a steep learning curve, it's an excellent tool for printing professionals who need to separate colors efficiently.
Separo
Separo is an innovative cloud-based solution for color separation, offering an intelligent screen print graphics pre-processing pipeline. Unlike other software you download or install, Separo operates entirely in your browser, allowing you to work from any device with an internet connection. This streamlined approach makes it easy for even the most novice of screen printers to achieve high-quality color separation results.
Separo is highly automated, offering ink combinations based on your image. It's an ideal solution for those who want to own their software but want to avoid the setup hassle or the complexity of Photoshop plugins.
With its cloud-based approach and lightweight separation process, Separo is a solid solution for shops needing a mobile, cloud-based, intuitive separation tool.
Pricing:
$49 for the beginner monthly subscription.
$149 for a more advanced package.
T-Seps
T-Seps is screen printing color separation software that lets users separate images into up to 15 spot colors. It offers several color selector tools, making it easier for users to choose the right colors for their designs. Although T-Seps is user-friendly and perfect for beginners, it has a limited level of customization compared to other color separation software programs.
UltraSeps
UltraSeps is a powerful plugin for Photoshop that offers a range of advanced color separation capabilities to screen printers. This software is designed specifically for printers and shop owners interested in streamlining their printing processes.
While Ultraseps is a plugin for Photoshop, it goes beyond simply separating colors in images. It can also create flesh tones, generate custom color channels for metallic and neon colors, create simulated mock-ups of your designs, and even generate RGB color proofs. One of the downsides of this software is that it requires the use of Photoshop and the need to repurchase the latest version with every update.
However, with its range of capabilities, Ultraseps is a valuable tool for professional screen printers.
Quikseps
Quikseps is an excellent beginner-friendly option for screen printers. It offers an affordable and straightforward way to set up color separations for printing. This program includes valuable tools such as creating CMYK layers, using greyscale, and even custom distressing images.
One thing to note is that Quikseps is not the newest software on the market. Its interface may seem clunky compared to more recent options. However, if you're looking for a cost-effective option, Quikseps is a solid choice.
Despite its age, this program has a strong following in the screen printing community. It can be a reliable tool for both new and experienced screen printers. Quikseps is available for both Mac and Windows and starts at $149.
Simpleseps
Simpleseps is an add-on that offers color separation for another program, such as CorelDraw. It is an excellent tool for designers who create their own graphics. It provides all the necessary print settings, from adding a white under-base to dealing with halftones. However, it is only useful if you use one of the compatible programs.
Simpleseps has released its fifth edition, and its pricing is flexible depending on how many computers you plan to use it on, making it an excellent choice for small business owners.
Xeriosep
Xeriosep is a new Italian company specializing in offering spot color separation for screen printing and digital designs. The program simplifies color separation for complex images like photos and speeds up the printing process.
While pricing for the latest version of Xeriosep is not readily available, it's definitely a program to watch in the future.
Freehand AccuRIP Emerald
Freehand AccuRIP Emerald is a raster image processing software that acts as a translator between your inkjet printer and your Adobe or Corel art files. This software is a critical tool for printing high-quality transparencies for burning screens. Without RIP software, transparency won't print well, and burning good screens requires good transparency.
AccuRIP translates art files into solid areas, tints, and gradients/blends. This software is straightforward to use and lives in your existing Print dialog menu. Select the channels you want to print, and let the software talk to your printer. It's explicitly designed with screen printing in mind and can create highly professional quality transparencies.
AccuRIP is costly, but it produces results that are difficult to imitate. Freehand also offers a variety of inks and printing supplies to support AccuRIP. It has been under development for a long time, is trustworthy, and has an excellent support team.
AccuRIP's price ranges from $199 to $539, depending on the license.
Spot Process Separation Software
The Spot Process Separation Studio is a powerful color separation software that automates the creation of high-quality screen printing separations. It is compatible with popular design software such as Adobe Photoshop and CorelDRAW.
It features a user-friendly interface, halftone and color adjustment tools, and a range of support materials to help users get the most out of the software. The Spot Process Separation Studio is a reliable and efficient tool for screen printing professionals, allowing them to produce high-quality separations quickly and easily.
Printfab Pro
Printfab Pro is a printer driver that works with various inkjet printers to provide high-quality printing and color management.
YRGBK
YRGBK, on the other hand, is a Photoshop plugin that offers advanced color separation for screen printing. It simplifies the process of separating colors and is handy for printing photographic images.
FastFilms
FastFilms is an all-in-one screen printer software that includes color separation, halftone creation, and stencil production tools. This user-friendly tool can quickly and easily separate images into spot colors.
FastFilms can separate images into up to 10 colors, and the software offers a variety of color selector tools. It also integrates well with other software programs like Photoshop.
While it's an excellent option for beginners with a low learning curve, FastFilms does not offer the same level of customization as other color separation software programs.
EZ Screen
EZ Screen is a color separation software for screen printing that is perfect for beginners. It's an excellent tool for those who are just starting with screen printing and need a straightforward tool for color separation.
One of the standout features of EZ Screen is its ability to separate images into up to 8 colors. While this is fewer colors than some of the other color separation software programs, it's still enough to produce high-quality designs. EZ Screen also works seamlessly with other software programs, like Photoshop.
EZ Screen is an excellent option for beginners because it's easy to use and has a low learning curve.
Management Software for Screen Printing: Printavo
Printavo is a comprehensive shop management software designed for screen printing businesses. It enables companies to manage orders, customers, and inventory in one platform. The software allows users to customize orders, automate customer communication, and monitor inventory levels.
Additionally, detailed reporting enables users to track sales, expenses, and profits, providing businesses with the tools to maximize efficiency, organization, and time-saving. Suitable for any printing business size, Printavo is an all-in-one solution.
DecoNetwork
DecoNetwork is an all-in-one platform for garment decoration businesses that enables the customization of products, payment processing, and e-commerce solutions.
The platform includes features such as automated production and the creation of online stores to streamline operations and help businesses grow. It also provides a user-friendly interface and excellent support to help companies unlock their potential and succeed.
PrintSmith Vision
As an industry-leading MIS, EFI PrintSmith Vision is designed for small to medium-sized print shops. It automates processes like order management and accounting to simplify daily operations so you can monitor your shop's progress remotely from a single dashboard. Plus, the software generates insightful reports that help you quickly identify job costs and optimize productivity!
InkSoft
InkSoft is an all-in-one e-commerce platform that provides businesses with the tools they need to sell custom-branded merchandise and grow faster. Like Printavo, InkSoft offers two pricing options and an enterprise plan, with positive reviews across the board.
However, some customers have reported issues with the design program, which needs to be updated due to glitches and limited art available for mock-ups.
InkSoft requires a one-time software license fee of $1,000 but provides free one-on-one onboarding and training.
Teesom
Running a screen printing shop can be overwhelming, with lots of paperwork and time-consuming tasks. That's where Teesom comes in, providing an all-in-one print shop management software solution that helps you stay organized and boost productivity.
Teesom offers a range of features, including order management, invoicing, inventory management, and production scheduling. It also integrates with popular e-commerce platforms like Shopify and WooCommerce, making setting up an online store easy.
What sets Teesom apart is its user-friendly interface, full features, and excellent customer support. Whether you're a small shop just starting out or a larger operation looking to scale, Teesom can help you streamline your processes and grow your business.
PrintManager
Harness the power of PrintManager, a groundbreaking print management software that offers unprecedented levels of transparency, control, compliance, and intelligence over your company's printing operations. Their technology is user-friendly and cloud-integrated for maximum efficiency while providing cost savings and robust environmental reporting capabilities.
Additional Tools for Screen Printing
In addition to the design and production management software mentioned above, there are a few more tools that can make screen printing more accessible and more efficient.
GSuite
GSuite is a cloud-based suite of applications used to create, store and share documents, spreadsheets, presentations, and other media. It offers a range of helpful features for businesses, such as automatic backups and collaboration tools that allow multiple people to work on one document simultaneously.
Google Docs
Google Docs is a cloud-based word-processing tool that allows multiple users to collaborate on the same document in real time. You can create documents, spreadsheets, and presentations that people can access from anywhere with an internet connection. This is particularly useful for print shops that must share information with clients or team members working on the same project.
HalftonePro
HalftonePro is a web app that allows you to create halftone patterns quickly and easily. Halftone patterns are commonly used in screen printing to create shading or gradient effects. With HalftonePro, you can upload your own image. The app will automatically generate a halftone pattern based on your specifications.
Printful
Printful is an all-in-one print-on-demand platform that makes designing, selling, and shipping custom apparel easy. It offers a range of features, including easy-to-use product design tools, a wide variety of products to customize with your designs, and fulfillment services for hassle-free printing and shipping. It also easily integrates with popular online store builders such as Shopify, WooCommerce, and Bigcommerce.
With Printful, you can quickly set up an online store for a t-shirt business, for example, and start selling your custom screen printed products immediately.
Once you've designed your products and selected a fulfillment service, you can start selling your products with Printful.
Printify
Printify is another popular print-on-demand service that specializes in custom apparel printing. It offers an easy-to-use product design tool, a variety of apparel and accessories to choose from, and reliable fulfillment services. It also has the added benefit of allowing you to drop-ship your products directly from Printify, meaning you don't need to store anything yourself.
You can create a free account with Printify to get started and customize your products using the product design tool. You can also view their product catalog to browse their apparel, accessories, and other merchandise.
TeeSpring
TeeSpring is a platform allowing people to design and launch custom apparel. With its easy-to-use interface and intuitive customization tools, TeeSpring makes it easy for anyone to create and sell custom t-shirts, hoodies, sweatshirts, and other apparel.
TeeSpring also allows users to set fundraising goals and develop campaigns to promote their merchandise. By leveraging the power of social media, TeeSpring can help people spread the word about their products and reach more customers than ever before.
Production and Operations
Shipping
ShipStation
ShipStation is a web-based shipping software allowing you to manage all your shipping needs from one place. You can import orders from multiple sales channels, print shipping labels, and track packages all in one easy-to-use interface. This software integrates with popular e-commerce platforms like Shopify, WooCommerce, and Amazon, making it an excellent software option for online print shops.
Here are other shipping software, web apps and services you can consider for running your screen printing business:
Stamps.com
Easypost
ShippingEasy
Shippo
Ordoro
ShipBob
Finance and Marketing
Accounting Software
Quickbooks
Quickbooks is a popular accounting software designed to make it easier for small business owners to manage their finances. With Quickbooks, you can track all of your income and expenses in one place for easy bookkeeping.
Payment Gateway
Stripe
Stripe is a payment gateway that makes it easy for businesses to accept payments online. With Stripe, you can process credit card payments securely and set up recurring payments and subscription plans. Stripe integrates with major e-commerce platforms, including Shopify, WooCommerce, and Bigcommerce.
Other payment options for your screen printing business:
Website
WordPress
To market your screen printing business, having a website is essential. WordPress is one of the most popular CMS available, and it's also great for creating an online store or blog. You can easily create your website using WordPress, and you don't need to be a web design expert. There are plenty of themes and plugins that you can use to customize your site and make it look professional.
Other Great Tools We Recommend
Calendly
Calendly is a scheduling tool that makes it easy to schedule meetings with others. With Calendly, users can set their availability preferences, share their scheduling link with others, and let them choose a time that works for them. It integrates with popular calendar apps like Google Calendar, Outlook, and iCloud, making it easy to keep track of appointments.
Calendly also offers features like automatic time zone adjustments and reminders, making scheduling a breeze for both parties.
Trello
Trello is a project management tool that enables users to organize and prioritize tasks through its visual interface. The platform uses a board-based system to represent different projects or workflows. It allows users to create cards for individual tasks or ideas.
Users can then move these cards between lists, add labels or attachments, and assign them to team members. Trello also offers features such as checklists, due dates, and activity tracking to help users stay on top of their projects. Its user-friendly interface and flexibility make it a popular choice for teams of all sizes and industries.
Zapier
Zapier is an online automation tool that connects 5000+ apps and services to automate repetitive tasks. Zapier simplifies tasks and increases efficiency, reducing manual effort and increasing productivity. It integrates with thousands of apps, enabling users to create workflows that transfer data between them, such as automatically creating a task in Trello when you get an email in Gmail.
The platform offers a range of pricing options, including a free version with limited functionality, making it accessible to businesses of all sizes.
Vector vs. Raster Images
Vector design
Vector design is an image made up of paths and shapes defined by mathematical equations. As a result, they can be scaled up or down without losing quality or becoming pixelated. Vector images are typically used for logos, illustrations, and other graphics that need to be resized frequently.
Raster design
On the other hand, raster design is a type of image made up of individual pixels. People use raster images for photographs and other complex images that don't require frequent resizing. Indeed, the quality of the image depends on its resolution, which is measured in pixels per inch (PPI). When you enlarge a raster image, the pixels become more noticeable, resulting in a pixelated or blurry image.
Vector vs. Raster Designs for Screen Printing Business
For a screen printing business, you should generally use vector designs. Indeed, vector images are resolution-independent, meaning they can be scaled up or down without losing quality, which is essential for printing in large sizes. In contrast, raster images can become pixelated or blurry when enlarged, leading to lower-quality prints.
Additionally, vector designs are typically easier to work with when it comes to color separation and adjusting specific design elements for screen printing.
Buyer's Guide: How to Choose the Best Screen Printing software?
As a screen printing business owner, you must audit your business processes to determine which functionalities are necessary to run your screen printing shop. It's essential to make a list of current workflows, distributor catalogs frequently visited, and software currently used.
If you're running on QuickBooks, you should look for software that integrates seamlessly with it.
Before signing up for any program, consider pricing and licensing fees and ask the sales team about the average onboarding time. Business management software helps scale and automate processes, but it's optional for some businesses.
Consider management software if you're printing for-profit and experiencing pain points. However, it's better to focus on supplies if you're a small part-time garage shop printing 1-4 orders a month.
Graphic Design Software for Screenprinting
Adobe Illustrator
Adobe Photoshop
Canva
Color Separation Software for Screenprinting
Separation Studio
Freehand Separation Studio 4
Separo
T-Seps
Extra Screenprinting Software for Windows
EasyArt Screenprinting Software
Azoft Printfab
Durst Rho P10
M&R's i-Image
Free Screenprinting Software
Canva
GIMP
Inkscape
Fatpaint
What is screen printing?
Screen printing involves using a mesh to transfer ink onto a substrate while blocking certain areas with a stencil. It is a precise, traditional printing technique that is popular with merchants and manufacturers worldwide.
Here is the screen printing process:
Step 1: Design Creation
Step 2: Screen Preparation
Step 3: Exposing the emulsion
Step 4: Stencil Creation
Step 5: Printing Process
FAQ
What is Screen Print Software?
Screen print software is a type of software that helps screen printing businesses manage their day-to-day operations, such as order management, scheduling, and inventory control.
What software do print shops use?
Depending on their specific needs and goals, print shops use various software, including graphic design, color separation, and business management tools.
What is the best software for screen printing?
The best software for screen printing will depend on the specific needs and goals of the business. Some popular options include Printavo, InkSoft, and DecoNetwork.
What is RIP software for screen printing?
RIP software for screen printing is a raster image processor that translates graphic designs into a format that can be printed on a screen. It is used to enhance image quality and color accuracy.
What is the best color separation software for screen printing?
The best color separation software for screen printing will depend on the specific needs and goals of the business. Some popular options include AccuRIP, UltraSeps, and Separation Studio.
When do I need to use business management software?
Business management software can be beneficial for screen printing businesses experiencing pain points in their workflow or looking to scale their operations. However, being in a comfortable financial position and ready to commit the time needed to implement and use the software effectively is essential.
Conclusion
Many different software options are available to screen printers, each with strengths and weaknesses. When choosing software for your print shop, it's essential to consider your specific needs and budget.
Do you need design software, management software, or both? Are you looking for a powerful tool to handle complex designs or a streamlined user experience that's easy to learn?
There's no one-size-fits-all solution, but by evaluating your needs and researching your options, you can find the right software package to help your screen printing business thrive.
My Top 3 Picks of the Best Screen Printing Software:
Adobe Illustrator: best for vector graphics.
Adobe Photoshop: best graphic design software.
Canva: best design software for beginners.
Remember, many software programs offer free trials or free versions, so don't be afraid to try before you buy. And as your business grows and your needs change, you can always upgrade to the latest and newest version or switch to a different software tool.
With the right tools, you can create high-quality screen prints, manage your business operations efficiently, and grow your screen printing business for years to come.