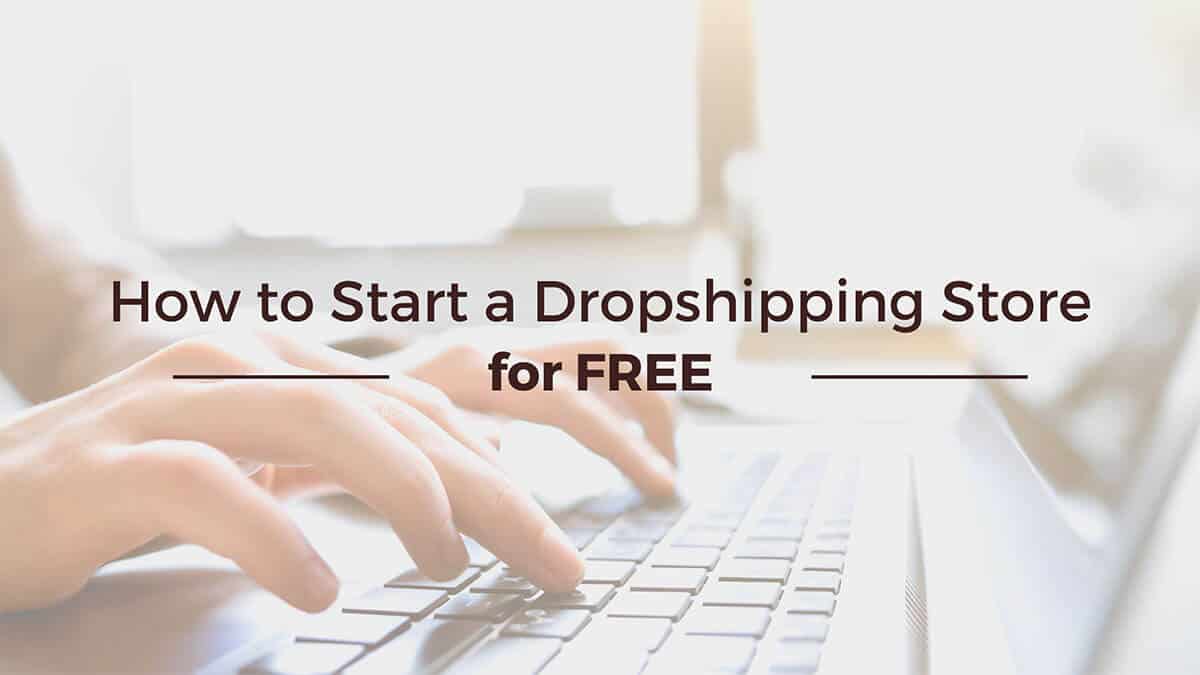 Tens of thousands of new businesses open each day in the United States, and that number is on the rise. According to the US Business Formation Statistics (BFS), 4.35 million applications for new businesses were processed in 2020. This is a 24% increase from the year prior (2019), and an over 70% increase from a decade ago (2010).
If you're looking to start a business in 2023, you're in good company. But how can you start a business without capital? Let's explore – how to start dropshipping for free.
TIP | The leading tools you need to start and grow your online business. We use them ourselves:
If you've looked into starting an online business, you may have come across the dropshipping business model. Dropshipping is an attractive and relatively young business model that is set to balloon in market size over the next few years.
With a market size of 111.28 billion USD in 2018 and an estimated 29% CAGR (Compound Annual Growth Rate) through 2025, there is no shortage of opportunity.
But what is dropshipping? How does dropshipping work? And how can you start dropshipping for free? Let's explore.
Disclosure: We use affiliate links in our content. This won't cost you anything, but it helps us to offset the costs of paying our writing team. All opinions remain our own. Thanks for your support!
What is a Dropshipping Business?
Dropshipping is a business model that allows you to run a product-based business without the need to hold inventory. In a dropshipping model, your business is an intermediary. This means that once you've sold a product on your website, you give the details to the supplier who fulfills the order.
You never have to manufacture, store, package, or ship anything yourself.
How Does Dropshipping Work?
This dropshipping business model may sound too good to be true. But it is a legitimate business model that many entrepreneurs have used to start successful online businesses. Let's discuss how dropshipping works.
There are three main parties in a dropshipping transaction: the customer, the manufacturer or wholesaler, and the retailer (you). These parties each play an important role in the transaction.
The manufacturer or wholesaler is responsible for stocking/manufacturing and holding inventory, packaging, shipping, and replacing defective or damaged goods.
The retailer is responsible for branding the store, choosing and marketing the product(s), pricing the product(s) profitably, generating sales, and managing customer service.
The customer purchases from and communicates with the retailer (only).
Here's a basic example of dropshipping:
A customer makes a purchase on your website for $150.
You forward the order to the supplier, who charges you the wholesale price of $50.
The supplier ships the item(s) to your customer.
Your business gets to keep the $100 difference.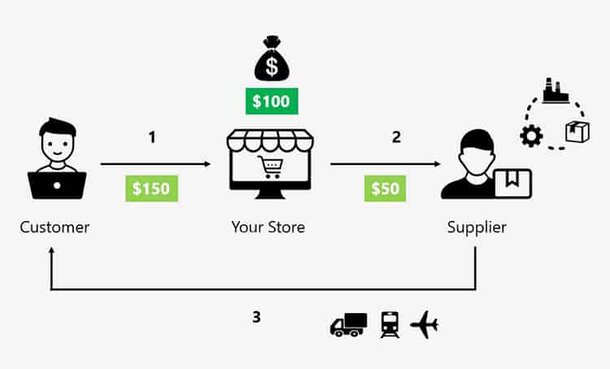 The profit comes from the difference between selling the product(s) at the retail price and purchasing it at the wholesale price.
How to Start Dropshipping for Free: What are the Pros and Cons?
If you're considering starting a dropshipping business, it will be helpful to explore the pros and cons of this business model:
Pros of Dropshipping
No upfront cost.
This is an article about how to start dropshipping for free, and we will get to exactly how to do that shortly. But the no-to-low cost for entry into the market is a definite pro for dropshipping.


No inventory.
This is a positive for both cost savings (no manufacturing or sourcing products) and convenience (no storage or shipping). It is a product-based business that can exist without ever touching a product.


Low risk.
Due to the no-to-low cost of starting a dropshipping business, the risk of loss is low.


Location independence.
Since you never have to touch a product, your business isn't anchored by anything but an internet connection – it can be done from anywhere.
Cons of Dropshipping
No inventory control.
While holding inventory is inconvenient and expensive, it does give you an advantage. Namely, control over the product. This lack of control can create customer service headaches if you get stuck with a poor supplier.

Problems like slow shipping times, out-of-stock inventory, or poorly packaged items can damage your brand's reputation at no fault of your own.


High competition. There are a lot of competitors out there who have access to sourcing the exact same products you do. This is where a business plan and marketing comes into play – you'll have to creatively differentiate yourself from the competition (but we'll talk more on this in the "Step 1: Create a Concept and Business Plan" section below).


It requires time.
There's a misconception that dropshipping is a passive income source. This is unfortunately untrue.
How to Start a Dropshipping for Free in 5 Steps
Now let's get into what you came here for – how to start dropshipping for free. We've broken it into 5 easy-to-follow steps:
Step 1: Research: Create a Concept and Business Plan
Creating a business plan is one of the most crucial parts of creating a successful dropshipping store. As we touched on, the pool of competitors in certain dropshipping niches can feel quite full. This is why you need a plan – how will you stand out?
Some incredible free tools can aid your research to find a less competitive but highly lucrative niche that stands out from the rest. Here are a few of them:
Google Trends. Google Trends is a goldmine of free information. Spend some time getting to know this tool and exploring keywords. You'll want to find a niche or product that is consistently searched over time (i.e. has a relatively stable trend line) with a decently high search volume. This is a good indicator that a business in this niche has the potential to offer a sustainable path toward success.
US Patents and Trademarks. Use this database to ensure a product you're looking to sell or the name you're looking to sell it under aren't already owned and protected intellectual property.
Answer the Public. This incredibly powerful tool lets you search a potential niche and see what questions people are already searching for related to that keyword. This may spark a niche, business, or product idea for you. You can conduct 1-2 free searches on Answer the Public per day.
Once you've decided on the concept, generate a business/marketing plan to solidify the details.
Step 2: Open a Shopify Account
When your business plan is ready, it's time to open a Shopify account. You will be given a 14-day free trial during which you can set up your dropshipping store at completely no cost (there is also no credit card required for signup).

Step 3: Find Products
Once you've set up your Shopify account, it's time to seek out quality manufacturers and the products you'd like to sell. Depending on your niche and business plan, there are different ways to connect with suppliers, such as:
Contact local manufacturers in your area to arrange a contract for dropshipping.
This option requires a lot more work from you (the retailer). This is because it's harder to find good-quality manufacturers who are open to dropshipping through cold contact. But this method has an advantage in that it's a great way to find unique products and lower competition.


Connect a dropshipping app to Shopify.
Many Shopify-integrated apps easily connect your Shopify store to manufacturers. If you choose this method, the right app for your business will depend on your business plan and niche.
Step 4: Import Products and Design Your Store
This is where the puzzle pieces come together. Take your business/marketing plan along with your carefully selected products and design the eCommerce store of your dreams. For this step, we recommend taking a look at competitors in the space for inspiration.
You can use free tools such as Canva (for branding, logos, and photo mockups), Pexels (for free stock photos and videos), and Lightworks (for free video editing) to make it your own.
Step 5: Start Driving Traffic
Finally, you'll need to start driving traffic to get your store in front of potential customers. Social media (such as TikTok, Instagram, and Facebook), Pinterest, and SEO optimization are great ways to start driving traffic for free.
Closing Thoughts: How to Start Dropshipping for Free
While it can be completely free to get started with dropshipping, it's important to know that if you stick with it, it won't remain free indefinitely. Over time, you will start incurring costs as you build and ramp up your store for things like a Shopify subscription, website domain, and product testing.
We hope you feel empowered with the knowledge of how to start dropshipping for free. It's a no-to-low-cost way to start a product-based eCommerce store. The market is ready for you – so why not start today?
Keep Reading: Check out our Complete Guide to Starting a Dropshipping Store By Clicking Here.
About The Author