E-commerce SEO (Search Engine Optimization) rank and e-commerce sales go hand and hand. Optimizing SEO for e-commerce websites is one of the most important aspects of running a successful online company today.
Many businesses don't realize the power at their hands when it comes to search engine optimization. More and more people are choosing not to leave their houses to shop in-store and prefer doing most of their shopping online.
TIP | The leading tools you need to start and grow your online business. We use them ourselves:
Even those who do shop in person almost always perform a google search for products they are interested in before reaching a buying decision.
What is E-commerce SEO?
E-commerce SEO is the strategy of bringing in new potential customers by making your online store more visible through search engines like Google.
SEO is one of the most critical marketing strategies because of its low cost. If done right, results can snowball and bring in significant traffic to your site every month. This is a massive advantage over other marketing strategies, such as paid advertising and social media campaigns, because these require a high budget each month to remain effective.
Some of the driving forces that create a high SEO rank are excellent and relevant content that is constantly updated. Other important components include catchy headlines, metadata, internal linking, and product descriptions.
Another key component is having a website design that is intuitive and easy to use so that the user has a good experience and stays on your site longer.
Why Ecommerce SEO is Important
E-commerce SEO is important because as we move further into the digital age, more and more people are doing online shopping. The first thing most people do when they need something is to google it. You want your site to be one of the first results on search engines to beat your competitors.
It is essential to rank on the first page of SEO search results and within the first three spots on the first page. This is a vital part of acquiring new customers through exposure.
People trust search engines. Users believe SEO appears more credible than paid advertising. Your brand will develop customer loyalty through time and patience by offering quality products and services.
Advice For Improving Ranking with Ecommerce SEO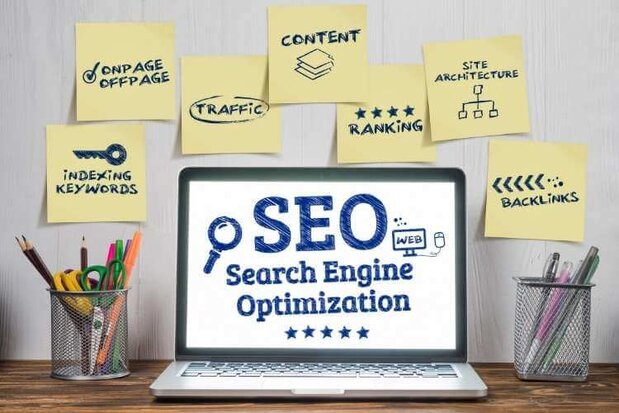 When running a good website or online store, content is always priority number one.
Content must be engaging, well-written, and relevant to the topic being searched.
Keywords are another important fact in improving the rank of your online store. On each page of your site, you have to have specific keyword phrases.
To come up with suitable keyword phrases, you must imagine what your potential customers could be searching for on Google. For example, if you sell finance books targeting young adults, you could use a keyword phrase like "best finance book for beginners" or "best finance book for college students".
With more and more people searching for products on their phones, your e-commerce store must have a mobile-friendly webpage. You must ensure that this webpage displays everything correctly and loads quickly.
People have no patience for a slow website and will quickly jump to a competitor's site if they become frustrated with yours.
What makes a good site?
Besides content, a good e-commerce store needs a website with a contact form, calls to action, FAQs, and customer reviews.
A contact form is essential so that you can answer potential customers' questions and erase any doubts they may have about buying your products. You should have your business's phone number, email, and social media, and place this contact form accessible from every single page of your website. For example, you can add a link to this contact form in your footer.
You should have calls to action on every single page of your website to get the customer to do what you want. These could be sharing your articles or products on social media, leaving comments on your blog posts, joining your mailing list, and, most importantly, buying your products with an "add to cart" button.
One of the keys to selling online is answering every question a customer may have before they decide to buy from you. You want to take away any doubt in this potential client's mind, and you want to do this before they even contact you. That is why having a FAQ (Frequently Asked Questions) on your product pages is so important.
Customer reviews are essential for a good website to bring in trust right away. You want new customers to see that you provide excellent service and offer outstanding products that people are happy with.
SEO Tools
Implementing tools can help you achieve your search engine optimization goals. Here are some great websites to use to increase your site rank.
Moz is a fantastic tool for analyzing competitors' page metrics, link-building, and finding new and relevant keywords to use for your site.
Ahrefs is used to find your site's and competitors' backlinks. You can create business relationships with others with similar websites as yours by linking to their site on your site and vice versa.
Semrush is a great tool for running technical SEO audits and growing organic traffic through keywords and backlinks for your website. It is great at discovering google trends as well.
Ubersuggest helps increase your site rank by generating new keyword ideas by isolating the best keywords and related keywords to use that are related to your product.
ScreamingFrog finds problems on your sites, such as duplicate content and broken links. Broken links and duplicate content are a major no-no when it comes to SEO, so identifying these problems early on and fixing them can be a game-changer for your website and will bring you a high rank hopefully.
Conclusion
As you can see, optimizing e-commerce SEO is one of the most essential aspects of running a successful online business. SEO for e-commerce websites must have excellent and relevant content, have a user-friendly page layout on computers and phones, and have a site that leads to a good user experience.
Search engine optimization is something every online business should prioritize. Many SEO audit tools are available to help you with your website. These include Ubersuggest, ScreamingFrog, Ahrefs, Moz, and Semrush.
Leave a comment if you agree or disagree with anything mentioned in this article. We want to hear your opinion!