If you've thought of starting a side hustle or owning your own business, you've likely heard of Shopify. Shopify is a platform that allows you to set up an online storefront and sell products very easily. Starting a business and becoming an entrepreneur is much easier with platforms like Shopify that let you build your own Shopify dropshipping stores.
Along those same lines, drop shipping is also a popular side hustle for those looking to make some passive income. Drop shipping is essentially a business model involving suppliers sending products directly to end consumers.
TIP | The leading tools you need to start and grow your online business. We use them ourselves:
WayURL: A powerful URL Shortener and Link in Bio tool for businesses with advanced tracking & analytics and support for QR codes. Try WayURL.

Shopify: The leading eCommerce platform to easily build your online store, used by over 4 million entrepreneurs worldwide. Get 3 months for only $1/month and claim your free trial today.

Jasper AI: The best AI Content Platform that creates engaging blog posts, art & images, ads, and marketing copy 10X faster to help you sell more. Trusted by Google, Airbnb, and 100,000+ content creators. Special Limited-Time Offer: Claim 10,000 Words Free.
Essentially, you never have to hold inventory in a dropshipping business. Your supplier is managing the manufacturing and shipping of your product. With these steps eliminated from your processes, dropshipping becomes a much lower-cost option than the traditional business model.
In this article, we're going to cover what exactly Shopify dropshipping stores are and what you should consider when setting up your own.
What are Shopify Dropshipping stores?
Combining the two concepts mentioned above, Shopify dropshipping stores are essentially online stores hosted on Shopify that source directly from the supplier and allow the owner to never hold inventory.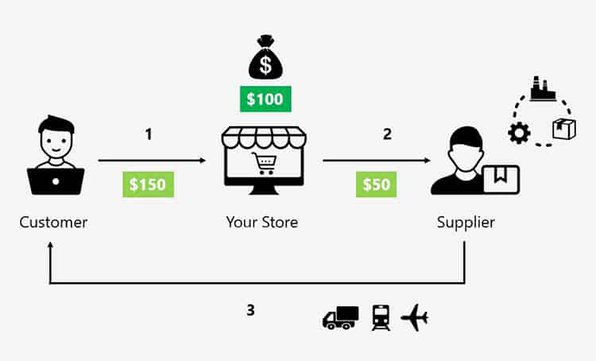 With a dropshipping store, you have much more flexibility with what product to order and what you can offer on your site because you're not investing much in inventory upfront.
This means you can test more products and determine which items will be top sellers and which won't work for your target audience.
Combining the drop-shipping model with a Shopify store means it's relatively easy for entrepreneurs to set up their own businesses quickly.
Before you launch your next million-dollar business, you'll want to consider a few things when setting up your store. Keep reading to learn more!
Things to Consider when Building Shopify Dropshipping Stores
Let's go over the top considerations when you're building Shopify dropshipping stores.
Selecting Your Niche and Product
Selecting the niche you want to sell in is one of the first key decisions you'll need to make. To do this, look at trending products, social media, and more! Your inspiration can come from anywhere, even from your interests.
One example from 2020 of a niche that took off is puzzles. With everyone sitting at home during the pandemic, there was a massive increase in demand for this product. Finding the right niche to start your Shopify dropshipping store in is one of the biggest factors for your store's success.
If you're short on inspiration, you can browse top sellers on sites like AliExpress to help get you started. It's important to do additional market research though, to validate your idea before launching your dropshipping store.
Where to Source Product From
Once you've selected your niche, the next consideration is where you're going to source your product from.
Shopify offers a variety of apps built into their platform to help you source products for your store. They can help make the ordering process seamless and set up your business to make passive income.
One of the most common apps in Shopify for drop shipping is Oberlo.
Oberlo is an app that connects you directly to AliExpress to source products. This app creates a seamless integration between your site and all the suppliers on AliExpress. Additionally, they have tools and data that can help you evaluate potential products for your store.
Other options include Spocket and Dropcommerce, which can connect you with US and Canadian suppliers to ensure faster shipping times for your customer.
Selecting the right Supplier
Selecting the right supplier is probably the most important partnership you'll have in your business. Many sites and apps that connect with Shopify capture reviews from those who have bought from suppliers. This will allow you to read reviews and ensure that the supplier you're considering has a good track record.
Other things to consider when selecting a supplier are where they are based, the quality of the product, do they have ethical business practices, etc.
Let's say, for example, that you're trying to sell sustainable, eco-friendly products. You'll likely want to find a supplier that has sustainable sourcing procedures because that's what your customers will value.
When in doubt, don't hesitate to reach out to the supplier directly to ask your questions. It's always better to ask your questions up front than to find out you've selected a bad supplier down the road.
Branding Your Store
One of the areas people like to spend some time is designing their website's storefront.
Shopify has a variety of themes available for free, or you can purchase a premium layout if you prefer. However, for beginners, most free themes will have enough functionality to get you started.
When creating your storefront, you'll want to ensure that you have a logo for your store and a cohesive color scheme to match. This might sound complicated, but this can be achieved through free tools available online, like Canva.
How to Drive Traffic to Your Store
Another very important consideration when making a Shopify dropshipping store is how you plan to drive traffic to your store.
This can be done in a variety of ways. Probably the most common way is through paid advertising on websites like Facebook, Pinterest, etc. While these are good methods, it can get tricky to begin with these options if you don't have some startup seed money.
Before you invest a lot of money into paid ads, be sure to research the best ways to create high-quality ad content and the optimal ways to spend money on paid ads.
Another way is to promote your store or products on social media through non-paid content. In 2023, a lot of small businesses are looking to social media channels like TikTok to jumpstart their business and drive traffic to their store.
There are other methods too, such as organic google traffic and influencer marketing on social media channels like Instagram. Each method has pros and cons, so it's important to decide which method to invest in for your business.
Conclusion: Ensuring Success for Your Shopify Dropshipping Stores
When creating a business plan or brainstorming your next big idea, it's important to think through each one of these topics.
How you're going to select your niche and source product is vital to the success of your business.
Other factors like website design and marketing plans (how you'll drive traffic to the website) can be tweaked and adjusted as you learn the ropes of your new business.
Once you've made a plan incorporating each of these items, you'll have a good idea of whether your business idea is viable. From there, you're ready to launch your business!