Introduction
Are you looking for Shopify t-shirt store examples? For many years, people have been buying their products in physical, brick-and-mortar stores. However, with the recent developments in e-commerce and the Internet, brick-and-mortar stores are becoming a thing of the past. Nowadays, a large part of shopping is done online through different platforms, such as Shopify.
You can create your own t-shirt store very easily with Shopify without having to take care of the logistics with print-on-demand. Shopify explains everything in their free course: "How to quickly start a profitable t-shirt store".
TIP | The leading tools you need to start and grow your online business:
Shopify: the leading eCommerce platform to easily build your online store, used by over 1.75 million entrepreneurs worldwide.

Systeme.io: the fastest way to start your online business for free, selling digital products.

Teachable: sell online courses in your knowledge business for free.
In addition to making goods easily accessible, online shopping has also created numerous business opportunities for people.
So, if you are a business-oriented person looking to start a profitable business, you would do well to launch a store on Shopify. However, there are hundreds of products that you can sell on Shopify. So which product should you choose to sell in your store?
Well, among the most popular products sold on Shopify are t-shirts. In this article, I will show you some of the best Shopify t-shirt stores.
Shopify T-shirt Store Examples
The following are 7 Shopify t-shirt store examples from which you can get inspiration:
This Shopify store registers an estimated monthly traffic of 61,000 users. It deals with all-over print clothes; clothes that feature a wide range of catchy designs. Besides t-shirts, Shirtwascash also sells swimwear, sweaters, leggings, and hoodies. Each of the clothes sold is designed with its unique pattern, from quirky to street styles.
Shirtwascash has well-established customer-friendly policies. These policies allow customers to exchange or return clothes, as long as the item is unworn and returned within 90 days of making the order. Without question, these flexible policies have greatly contributed to the increased sales and profits made by the store.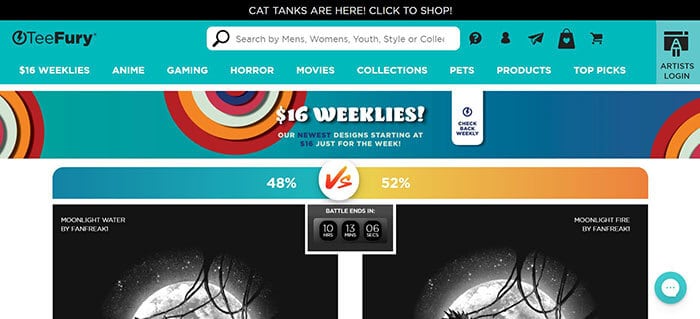 TeeFury is popular for the pop culture, and limited edition t-shirts that it deals with. In fact, the shop launches new apparel designs every 24 hours; these newly released designs are usually sold at discounted prices for the first few customers.
This selling technique (commonly known as FOMO psychology for "Fear Of Missing Out") has led to increased sales for the brand, with the shop registering an estimated monthly traffic of 358,000 users. This is because the customers are tempted to make impulse purchases, in fear that the unique designs may be quickly sold out.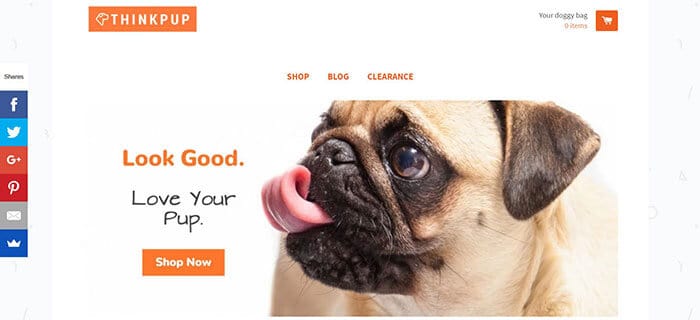 If you are looking to specialize in t-shirts with animal designs, you can learn a lot from this Shopify store example. Think Pup deals with dog-themed shirts that illustrate different breeds of dogs.
Also, the brand creates personalized shirts by adding creative names which appeal to buyers. For example, it adds names such as 'Corgifornia' which speaks to the dog lovers residing in California.
In addition, Think Pup tries to accommodate the needs of all its customers by changing the color of the shirts or adopting other shirt ideas. This supportive shirt customization service not only promotes the image of the store but also drives more traffic and increases customer loyalty.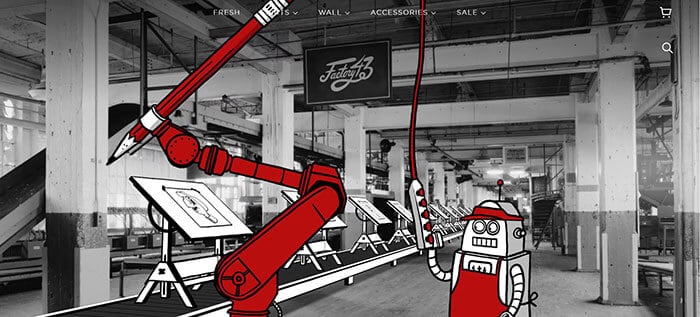 Factory43 specializes in the niche of graphic t-shirts. The website has a very user-friendly interface and well-designed templates. This simple website layout makes it easier for people to scroll through the items sold and even make orders.
Also, Factory43 focuses more on quality than quantity. Therefore, despite being small in number, the t-shirt designs manufactured tend to be very catchy and attention-grabbing. In fact, this Shopify t-shirt store example is ranked among the most competitive brands when it comes to selling stunning t-shirt designs and ideas.
More so, Factory43 generates more sales by setting up its page on other platforms, such as Twitter, Instagram, Facebook, and Pinterest. All these pages drive a lot of money for the brand while increasing the number of their loyal customers.
This Shopify t-shirt store example sells Christian-themed t-shirts for women only. The website has a beautiful layout consisting of several images that bring about a feminine feel. Some of the items even pop up on the screen with positive vibes. Simply looking at these lovely images tempts the customers and website visitors to keep scrolling through every corner.
More so, Elevated Faith has established its business on all social media platforms. On Instagram, the brand records at least 300k followers, while the account has more than 125k followers on Pinterest. The great popularity of the store can be attributed to the fact that it maintains engaging content effectively on all platforms.
Just like its name suggests, The Organic T-Shirt Shopify merch store specializes in the distribution of organic shirts and they are based in Australia. All the t-shirts produced are 100% cotton. Therefore, the brand guarantees its customers high-quality, comfortable t-shirts whose production and distribution do not contaminate the environment as much as other clothing brands. Indeed, they still have to ship their products and source raw materials even if they do the manufacturing on site.
The Organic T-Shirt's commitment to social responsibilities and a healthy environment is one of the key factors that has led to its popularity.
Another aspect that makes this one of the best online t-shirt stores on Shopify is that it sells all items at affordable prices. For instance, a high-quality, cotton t-shirt goes for a mere 29.90 USD dollars. This Shopify t-shirt store is therefore a good inspiration for other entrepreneurs interested in selling t-shirts.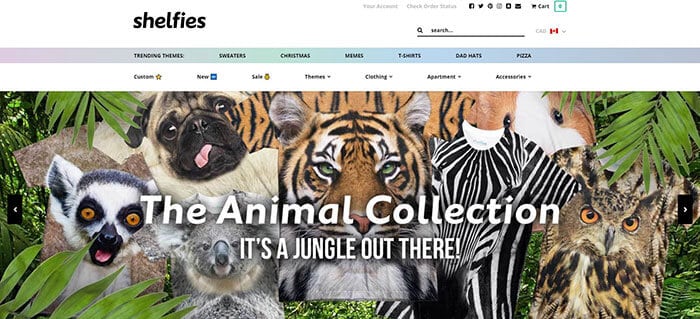 Shelfies is similar to the Shirtwascash store; they both deal with all-over print t-shirts. These t-shirts have very funny and witty designs that give the brand a strong identity. And these designs are also included on the website, encouraging the visitors to just scroll more and more.
Also, Shelfies has policies that allow customers to return their orders if these do not meet their expectations. However, the items should be returned within 60 days of the order purchase. In addition, when a customer features the brand on any of their social media accounts, they are rewarded with a 25% discount on the next purchase order.
What's even better, Shelfies Shopify store has set up a separate 'Sale' category on its online store. This 'Sale' category features a wide range of items sold at discounted prices. Therefore, even customers and shoppers who are on a limited budget can get their preferred t-shirt designs here. And this helps to attract new customers to the store, while still retaining old customers.
Conclusion – Shopify T-shirt Store Examples
The business world is gradually changing, with more buyers and sellers now going online. More so, the Covid-19 situation has even accelerated the trend of online shopping. So, if you wish to keep up with the competitive world, you need to keep up with this pace. And one good way to do this would be to launch your own Shopify t-shirt store.
The 7 Shopify T-shirt Store Examples discussed above can give you ideas on how to build your own successful store on Shopify. Therefore, go through each store once again and take notes on how each shop attracts its customers.
And sooner than you think, you will be running a well-established, profitable T-Shirt store of your own! T-shirt Shopify stores are a great opportunity for e-commerce entrepreneurs, especially with print-on-demand which allows you to have no stock.
Start Your T-Shirt Store Business
Learn how to quickly start a profitable t-shirt store business with this free course created by Shopify: