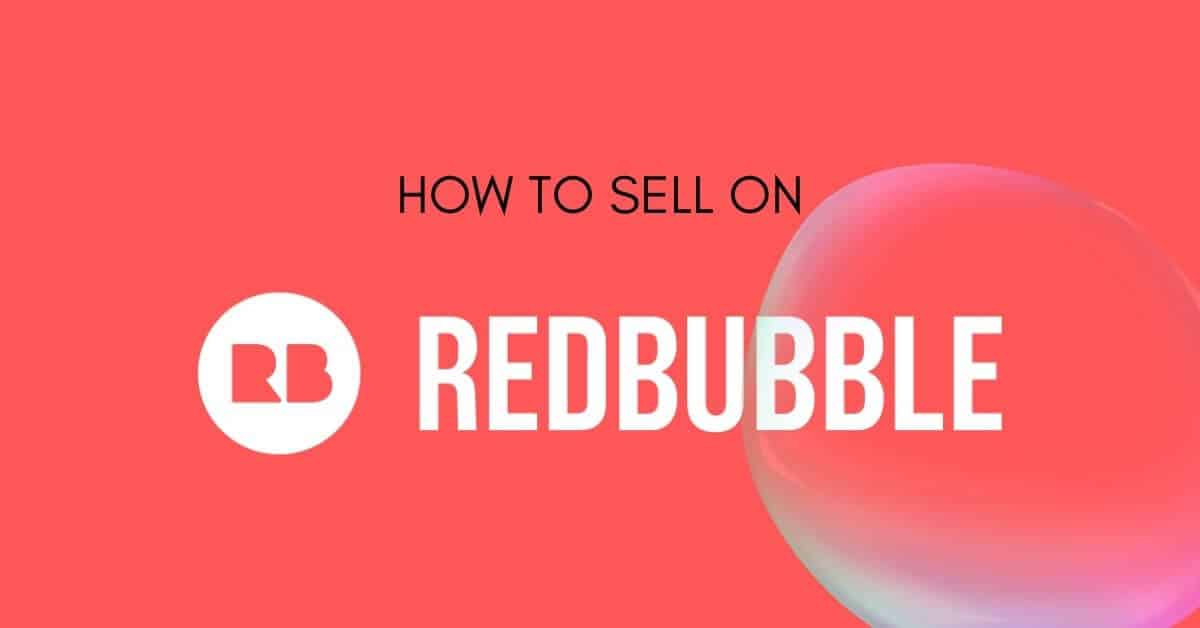 If you're an artist or online entrepreneur looking for a simple, cost-free way to make money online, Redbubble is worth checking out. I will show you how to sell on Redbubble so you can find success online.
With over 700,000 artists already using the platform, Redbubble is one of the most popular online marketplaces for print-on-demand. Plus, Redbubble makes it easy to get started – you can upload your designs and start selling right away.
TIP | The leading tools you need to start and grow your online business. We use them ourselves:
The Redbubble Group was founded in 2006 in Australia, and it now makes more than USD $650 million of total revenue per year, including Redbubble and its TeePublic subsidiary.
In 2021 and according to their annual report, more than 700 000 selling artists on Redbubble marketplaces earned $104m in revenue.
In this Redbubble definitive guide, you'll learn how it works, how to sell on Redbubble, and how it measures up against other platforms that allow you to resell your design work. You'll also get some helpful advice on marketing your print-on-demand products.
What Are the Benefits of Using Redbubble?
Several print-on-demand services are available today, yet Redbubble is an excellent choice as a primary platform for selling your work for several reasons.
Beginner-friendly
Making money with Redbubble is easy and free! Just create your designs and upload them to the platform.
Fortunately, Redbubble doesn't charge until after you've made a sale, so you won't have to pay for the item upfront. There are also no membership or transaction costs associated with the service.
Many print-to-demand sites, like Redbubble, have similar features. You can add designs to the products you will market. RedBubble takes all manufacturing and delivery responsibilities, allowing vendors to focus on developing new designs.
Free Organic Traffic
Redbubble offers free organic traffic as it's an online marketplace visited by millions of customers. It means that customers can find your products without you having to pay for advertising.
All Redbubble pages are indexed in Google search, so your designs can appear in organic search results.
Passive income stream
Create designs and products that appeal to your target audience to earn a stream of passive income from Redbubble. It involves working hard upfront to get everything set up and ensuring your listings are visible to potential shoppers. However, once you have everything in place, sales should come in steadily over time.
To maximize earnings potential, focus on creating designs and products that will be appealing to your target audience. With a little effort, you can start generating a passive income stream from Redbubble sales.
Pros and Cons of a Marketplace vs. your Own Store
Other print-on-demand sites, such as Printful, don't have their own marketplace. You can only advertise and sell items on your website if you use these services.
Before you decide whether to sell your products on an online marketplace like Redbubble or your store, consider a few things.
First, selling on a marketplace generally requires less setup and maintenance than running your own store. For example, you won't need to worry about hosting fees or building a shopping cart.
However, marketplaces tend to be less customizable than e-commerce platforms like Shopify or self-hosted solutions such as WooCommerce stores.
This can be both good and bad – on the one hand, you won't need to spend as much time designing your shop; on the other hand, you won't have as much control over how your store looks and feels.
Another thing to remember is that marketplaces usually take a significant cut of each sale, so you'll need to make sure that your prices are adjusted accordingly.
Ultimately, there's no right or wrong answer – it depends on what's most important to you and your business.
But how does selling on Redbubble work exactly? In the following sections, I will show you the products you can sell on Redubble and the features offered by the platform. Then I will show you exactly how you can create your Redbubble shop.
How Redbubble works: Products & Features
You may be wondering, How does Redbubble work?
Redbubble provides merchants with a diverse range of product possibilities. This is beneficial to artists since having greater variety in your product offering allows you to appeal to a larger customer base.
Additionally, Redbubble sellers benefit from superior printing quality compared to many other print-on-demand competitors.
Redbubble is a print-on-demand marketplace where people can sell custom products like t-shirts, phone cases, and stickers.
RedBubble offers more products than Merch from Amazon, making it a more profitable business opportunity for your company.
This makes it helpful in bringing a more diverse and attractive service to a broader customer base. Sellers have high printing standards that are better than the competitors.
Redbubble's products are, for example, T-shirts, Hoodies, and Leggings. Currently, RedBubble is using its website to list its most popular products. Some popular merchandises are shirts and stickers.
Product Categories
Here is a comprehensive list of Redbubble's products you can sell in various categories:
Clothing: Dresses, Hats, Hoodies & Sweatshirts, Leggings, Skirts, Socks, T-Shirts, Tank Tops
Phone Cases: iPhone, Samsung phone cases, etc.
Kids & Babies: Baby One-Pieces, Baby T-Shirts, Kids Masks, Kids Pullover Hoodies, Kids T-Shirts, Toddler Pullover Hoodies
Stickers: Car Stickers, Helmet Stickers, Hydro Flask Stickers, Laptop Stickers, Magnets
Wall Art: Art Board Prints, Art Prints, Canvas Prints, Framed Prints, Metal Prints, Mounted Prints, Photographic Prints
Home & Living: Acrylic Blocks, Aprons, Bath Mats, Clocks, Coasters, Comforters, Duvet Covers, Floor Pillows, Jigsaw Puzzles, Mugs, Shower Curtains
Office: Greeting Cards, Hardcover Journals, Mouse Pads & Desk Mats, Postcards, Spiral Notebooks
Accessories: Backpacks, Drawstring Bags, Duffle Bags, Hats, Makeup Bags, Masks, Pins, Scarves, Socks, Tech Accessories, Toiletry Bags, Tote Bags, Travel Mugs, Water Bottles, Zipper Pouches
Pets: Pet Bandanas, Pet Blankets, Pet Mats
RedBubble Bestselling Products
What are the most selling products on Redbubble?
The most popular items on Redbubble are also listed on a dedicated best-selling products page. T-shirts and stickers are the most frequently purchased items, even if masks were previously popular during the pandemic of 2020.
Stickers are very cheap, so you can expect to sell lots of them. However, the profit margin is lower. Lots of beginners sell stickers on Redbubble.
Things you may not know about Redbubble
Redbubble is an Australian company listed on the Australian Securities Exchange.
They have the most organic traffic on a single POD (print-on-demand) site, which means it has a more significant organic reach than any similarly-themed POD site.
The company offers a phone application available for iOS and Android, though the app is still relatively simple and does not feature the full functionality of Redbubble.com.
Redbubble Pricing
Redbubble is a print-on-demand company that offers base prices for its products. Sellers on the marketplace can then apply a markup price to each product to get their artist margin.
Base prices range from $2.95 for a sticker to $22.00 for a framed art print.
For example, if a seller marks up a sticker by $2.00, the final purchase price of the product would be $4.95.
Redbubble also offers discounts when purchasing in bulk. For example, if a customer buys 10 stickers, they would receive a 10% discount on the total price.
There are several methods for defining the markup on your items, including:
A percentage markup for all categories and products. For example, a 10% premium on all products.
A category-specific percentage markup. For example, a 15% premium on hoodies.
Products or categories with a modest markup: T-shirts, for example, have an $8 markup.
Redbubble pricing is simple, allowing customers to purchase high-quality products without breaking the bank.
You can read more about Redbubble pricing in their help center.
How much money can you make selling on Redbubble?
Many entrepreneurs make thousands of USD per year on Redbubble as a side hustle, especially when selling t-shirts. That's a nice passive income stream. In 2021, 728000 Redbubble sellers earned a total of $104 million on the platform, according to the annual report.
Why couldn't you be a top seller? Your success or failure will depend on your products, hard work, persistence, and a bit of luck.
It's up to you to decide to learn how to sell on Redbubble and join the top 1% of sellers making the most earnings.
As previously mentioned, sellers on Redbubble earn money based on the markup price they set for each product.
For example, if you set a markup price of $10 for a t-shirt, Redbubble will charge the customer $20, and you will earn the $10 difference. That's not bad for a t-shirt.
On top of that, Redbubble also collects sales tax, which varies by state. A tax is added to the total cost paid by the client and does not impact your profit. You can read the "How much do I earn from my sales" article in the Redbubble help center to learn more.
So if you're considering selling on Redbubble, remember that how much money you can make depends on both the markup prices you set and the sales tax in your state.
You'll get a larger profit margin on each sale the higher your product's markup is. However, set your prices too high, and you may lose sales. It all comes down to keeping things in balance.
How to sell on Redbubble: Payment Options
Redbubble offers lots of payment options for customers depending on your customer's location, including:
Visa, Mastercard, American Express – Credit, Debit, Pre-paid Debit cards
Afterpay/Clearpay – "Buy now, pay later" in 4 installments.
PayPal
Amazon Payments
Apple Pay
Sofort
Depending on your sales, you earn money with Redbubble regularly. Each payment cycle begins on the 15th of the month and ends on the 15th of the following month.
Redbbuble pays you as a seller via bank transfer or on your PayPal account.
Redbubble Support
Redbubble's support center is available to both sellers and buyers. They guarantee a response within 24 hours of your support request.
Buyers and sellers may get assistance in a variety of ways via their Help Center:
FAQ & Knowledge base
Live Chat
Submit a support request
Send a private message on Twitter or Facebook
The company handles all printing and order fulfillment aspects, so Redbubble will be responsible for all customer support questions instead of the seller.
Redbubble "Done For You" Shipping
Redbubble is a company that prints designs on products and then ships them to customers. So basically, you don't have anything to do when you get an order, isn't it cool?
After a customer orders, production, and printing take between one and three days to complete. Shipment times will differ based on the customer-selected shipping method and location.
Shipping costs are calculated on the checkout page; Redbubble does not offer free shipping. You should also be aware that the total cost you see does not include import duties and other expenses. You will want to consider that, mainly if you sell internationally. Fortunately, if a client has to pay customs fees to obtain a product, they can fill out a customs refund form on Redbubble to be reimbursed.
From the "Where's my order?" page on Redbubble, customers will find detailed tracking that enables them to stay up to date on the status of their purchase.
Returns and Refunds Policy
Customers can submit a Return Request to Redbubble if they qualify for their Return and Exchange Policy.
Everything on the Redbubble online marketplace is custom-made. Therefore, according to their policy, customers can request returns within 90 days of the estimated delivery date for most goods.
For sizing, style, or color concerns, exchanges are available as a replacement order or Redbubble voucher.
After completing the return, Redbubble deducts the sale amount from your earnings as a seller.
How to start selling on Redbubble
Historically, it has been hard for many artists to sell their artwork. However, today's newest online and e-commerce platforms celebrate the best artwork of the people they care about.
So, if you're an artist or want to sell designs online, it's your opportunity. Indeed, Redbubble is very simple to use, and we teach you how to sell on Redbubble, so you're in good hands.
Redbubble is a print-on-demand platform allowing artists to sell their designs on products. It is easy to use, and Redbubble handles all the printing and shipping for you.
Before selling on Redbubble, you can focus on creating new designs. All you need is a design file saved as a JPEG or, even better, in PNG.
How to Create a Design for Redbubble?
The RedBubble platform aims to deliver high-quality prints on-demand to customers.
The company also increased the Content Policy and refused to accept stock designs to attract buyers of the artworks it has created.
The Vexels T-Shirt Maker provides unique t-shirt designs to sellers and designers without expertise. Creating unique designs is simple by using millions of transparent PNG files for compositions. Alternatively, you can use design templates to create a composition that you can easily edit in a single go.
If you're not good at creating designs with Canva, Placeit, Vexels, or Photoshop, you can outsource the task to freelancers on Fiverr or Upwork. They will be creating designs in no time for a low price.
How to sell on Redbubble: Tips for your designs
Here are some tips to help you ensure the longevity of your Print on Demand business on Redbubble:
Pick something you're familiar with.
Conduct market research.
Avoid copyright infringement or trademark issues.
Pay attention to spelling mistakes and bad grammar.
Make it distinct and original.
Make use of social media trends.
Create designs related to special events, public holidays, and seasonal trends.
In the following section, you'll learn how you can easily create your Redbubble store and quickly start selling your custom Redbubble designs on the marketplace.
How to Create a Redbubble Store in 6 Easy Steps
Here are the 6 steps you have to follow to create your Redbubble shop:
Create a distinctive profile name
Add your payment information
Add a cover and profile image
Upload your original artwork to Redbubble
Start promoting your products
Track your performance
1. Create Your Profile
Welcome to Redbubble! To sell your artwork, you'll first need to create a profile.
To get started, go to the homepage and click on the Sell Your Art link in the top right corner of the screen.
You can then see the signup page where you click "Start selling" to create your Redbubble account. You must provide your email address and create your username and password.
When creating your profile name, we recommend choosing something distinctive and easy to remember.
This will be the name that appears on your artwork, so make sure it represents you and your current work in the best way possible!
After creating your Redbubble account, you get access to your dashboard:
2. Add your payment information
RedBubble offers 2 simple payment options for sellers: via wire transfer to your bank account or via your PayPal account.
You'll need to provide your payment details to get paid for any sales you make. You can add your payment information to your ACCOUNT SETTINGS page.
How to add your payment details?
Click on the Edit Payment Details link in the left-hand menu of your ACCOUNT SETTINGS page, and then enter your verified PayPal account or bank account information. Or click on "Add payment details" from your welcome message on your dashboard.
The payment cycle runs on the 15th of the month.
Please enter the correct data into this payment options page, and you will not have issues getting paid.
3. Add a cover and profile image
Adding a cover image and an avatar to your profile is a great way to show off your creativity and catch the attention of potential buyers.
You can choose an avatar and cover photo representing you and your work. Some ideas for a Redbubble cover image include :
A picture of you wearing or using your products
A behind-the-scenes look at your creative process
A fun and vibrant image that matches your brand
Remember, your cover image and avatar are public-facing images, so make sure they reflect the image you want to project.
4. Upload your original artwork to Redbubble
It's time to begin adding the artwork you wish to sell once your account is in order. Here is how you can upload your artwork to Redbubble:
Access your portfolio by clicking on your profile in the upper right corner and selecting Manage Portfolio from the drop-down menu. You reach your artwork collection page.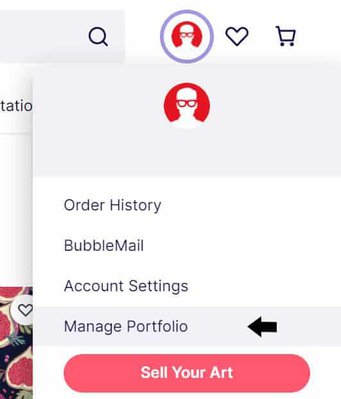 Click on Add new work from your portfolio collection page.
Uploading artwork is very easy! Click on the Upload new work button. Select the file from your computer; it will automatically appear in the product preview section, where you can adjust the design.
Choose a title for your design. Use appropriate keywords to help rank on Redbubble listings so people can see your products.
Add tags. You may add up to 15 tags. Choose tags that you believe users will search for when looking for products.
Add a product description. This is where you have the opportunity to share with your potential customers about the artwork and create desire.
Activate your product listing. Click the "Disabled" button next to the product type. It switches the product to "Enabled" due to this action.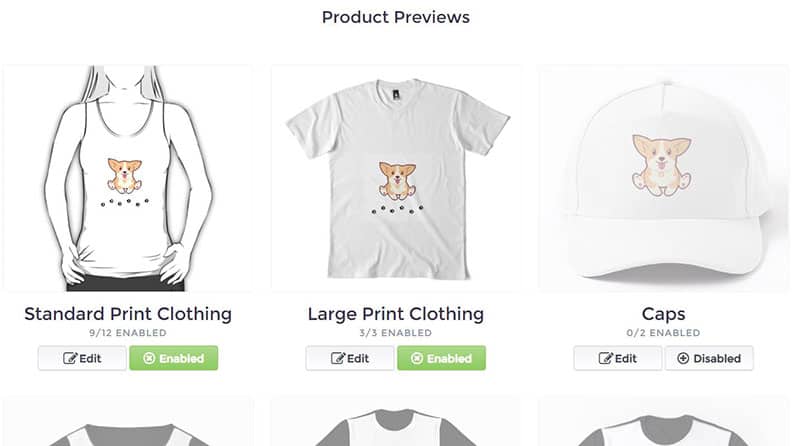 Click the edit button next to each product type to make changes to the design. This will allow you to resize, center, and reposition the product design:
What happens once your art is up?
Once you have everything set up, you'll be ready to sell your unique artwork on Redbubble. Good luck!
5. Social Media Promotion – How to sell on Redbubble
To boost your sales on Redbubble, use social media to promote your business to potential consumers. Indeed, competition is tough on Redbubble, so it helps if you bring traffic from other sources too.
Many social media followers are used to buying online from Redbubble, a brand they trust, like Etsy.
Include a link to your Redbubble page on popular platforms such as Instagram, Facebook, and TikTok to spread the word about your Redbubble designs.
To increase your exposure on social media, include photos of your designs and relevant hashtags.
Pinterest
Promote your shop on Pinterest to reach more customers. Create boards and pins featuring your designs to drive traffic to your store.
To make your pins stand out, use high-quality product images and videos that are creative and visually appealing.
In addition, Pinterest is a great platform to use if you want to connect with other independent artists and creators. You can join relevant Pinterest groups, follow other artists, and comment on their pins.
Doing so will increase your chances of being discovered by potential customers.
So what are you waiting for? Start promoting your new Redbubble shop on Pinterest today!
6. Track your performance
It's critical to monitor your sales on Redbubble to identify which designs are popular and which may require some modifications.
Every time you make a sale, you'll get an email from Redbubble. This email will detail the design, product, and profit you get. Redbubble can monitor your earnings by product categories and traffic to your listings.
The analytics dashboard displays your overall Redbubble earnings, top-earning items, and traffic source.
This information is helpful in understanding which designs are selling well and what areas might need some improvement.
By tracking sales and performance in your Redbubble account, you can ensure that your designs are always selling well on Redbubble.
Recommendations for selling on Redbubble
We've now learned the basics of how to sell on RedBubble. How can you make Redbubble profitable for you? Does it work? Let us talk about recommendations and selling tips for making money on RedBubble.
Research Your Niche
Redbubble is an excellent platform for selling unique, creative products, but if you want to be successful, you must do your research first.
Redbubble is a marketplace with a lot of competition, so finding a niche in which you can excel is crucial.
Take some time to browse Redbubble and see what kinds of products are selling while you learn how to sell on Redbubble.
Once you have an idea of the market, you can start researching your niche. This may involve looking for trends on social media, visiting similar websites, or even talking to potential customers directly; maybe one will give you a great idea.
The more you know about your niche, the better your chance of selling a high volume of products on Redbubble.
So don't forget to do your research before you start selling!
Do Keyword Research
Use 'Search Friendly' Keywords In Your Titles, Descriptions, And Tags
Redbubble artists often make mistakes by not giving their products a suitable, searchable title. Redbubble will determine an item's purpose based solely on its attributes.
They also must know who the shop is intended for and what phrases and words to rank. It's how Redbubble determines where to display your designs and where to promote you to Google.
So when describing a product for Redbubble, you must define the product using a phrase your ideal customer will probably search for.
If you're planning to sell your products on Redbubble, selecting the right keywords for your product descriptions is essential.
Keyword research is vital to rank your products on Google and other search engines. The right keywords can help potential customers find your products more easily and help you get better placement in search results.
Search Engine Optimization is the best and cheapest way to get people to your Redbubble store for free. SEO is not easy, and it takes time to learn and master. However, it will be worth your while once you get the hang of it.
When choosing keywords, try to think like a customer. What words would they use to search for your product? Once you've chosen the right keywords, use them throughout your product descriptions.
Use them in the title, the body of the description, and the tags. Redbubble also allows you to add keywords to your product when you upload it.
These keywords will also help Redbubble's algorithm match your product with potential buyers. So don't forget to do keyword research before listing your products on Redbubble!
Respect Files Guidelines
Redbubble is an excellent platform for selling your designs, but it's essential to format your files correctly before uploading them. This includes both the file size and type.
Starting with a design that is 7632×6480 pixels, as recommended by Redbubble, is the best option for larger products. The minimum is 1000px resolution, but I don't recommend it as it's small.
Redbubble accepts JPG, JPEG, PNG, and GIF files; PNG file type is preferred for better print quality, while PDF and TIF are not accepted.
IMPORTANT: Check out their design guide and the "Dimensions & Format" article to get all the information before uploading your designs on Redbubble.
It's crucial to respect Redbubble file guidelines because incorrect files can lead to products of poor quality. It ultimately hurts both the artist and the customer, so pay attention to that as you learn how to sell on Redbubble.
Improve your Catalog: designs, variations
To boost your sales on Redbubble, offer a variety of designs and product variations. This way, buyers will have more options and are more likely to find something they want to purchase.
Not only will you make more sales this way, but you'll also give buyers the chance to express their individuality through the products they purchase.
List Your Design On As Many Redbubble Products As It Makes Sense
Indeed, if you list your Redbubble designs on plenty of different products, you will increase your exposure and, as a result, your sales. Redbubble also offers mugs, phone cases, stickers, tote bags, and many other products.
You can sell your digital art on over 80 Redbubble products, so take some time to browse through them all and see which ones would be a good fit for your designs.
Redbubble recommends you try to list at least 25 designs in your first month on Redbubble, so your priority should be to create products.
Check out this list of Redbubble products to get started.
Use Tags and create Collections (with search-friendly names)
One way to stand out in the Redbubble marketplace is by using tags and collections to organize your product listings.
Tags help customers find your products by keywords, and collections allow you to group similar items together.
Indeed, you can organize all of these designs into collections to make things easier. Creating a collection will create a new web page for your artist profile, complete with its title and appropriate keywords.
This collection page gives you another chance to rank in Google search results and may also help Redbubble promote your work more effectively with similar designs. It also allows buyers to browse the types of designs they are interested in.
Each product can have up to 15 relevant tags. For example, if you sell t-shirts with your designs, you could create a collection called "T-Shirt Designs" and tag each listing with relevant keywords like "graphic tee" or "Funny t-shirt."
By taking the time to properly tag and organize your listings, you can make it easier for Redbubble users to find and purchase your products.
Related search tags
You can also increase the visibility of your designs on Redbubble by using related search tags. Indeed, when a customer searches for a specific term on the site, the Redbubble search engine looks for products that match the phrase searched and related words.
For example, if a customer searches for "cats," they might also see results for "kittens," "tabby," or "feline."
To take advantage of this, make sure to include a few related terms when you're tagging your products. This will ensure that your products come up in more customer searches and hopefully help you sell more products!
How can I find related Redbubble Tags?
You can find relevant Redbubble tags by clicking on the "Explore designs" link in the main menu at the top of Redbubble's page. It will bring you to the explore page.
This will take you to a page featuring different Redbubble shops and their products.
When you find a product similar to yours, click on it and scroll down to the section labeled "Tags." Here you will find a list of relevant Redbubble tags you can use for your product.
How many tags should I use on Redbubble?
On Redbubble, you may apply up to 50 tags to each design. Redbubble recommends aiming for at least 3 – 5 tags, with 10 being a nice chunky number.
Mitigate Redbubble Promotions
Redbubble is a great way to make money as an artist. However, when they offer promotions and discounts to customers, it can have a significant impact on your sales and profitability.
Fortunately, there are some things you can do to mitigate the impact of these promotions. First, make sure you're aware of when they're happening. Redbubble will typically announce promotions a few days in advance so that you can adjust your pricing accordingly.
Second, consider running your own promotion at the same time. This can help offset any lost sales and maintain your profits.
You can also increase your retail price of a product beforehand when you know a Redbubble promotion is coming up.
Finally, keep an eye on your overall sales volume. If you see a significant drop during a promotion, reach out to Redbubble customer service.
By following these steps, you can help ensure that promotions don't hurt your business.
How to sell on Redbubble: Spread the word!
Redbubble is an excellent platform for independent artists to sell their work, but it can be challenging to stand out from the crowd.
One way to increase your chances of making a sale is to promote your listings actively. Social media is a great way to reach a wider audience, and Redbubble provides tools that make it easy to share your designs on platforms like Facebook and Instagram.
You may also use Redbubble to advertise your products by following other artists and commenting on their work.
Using tags is also a great way to ensure customers can find your Redbubble designs. Tags might also help you get new followers.
By taking the time to promote your listings, you'll be able to increase your sales and grow your following on Redbubble.
More tips to increase your Redbubble store success
How to sell on Redbubble: Build Your Brand
Let us list another tip that will improve your success: build your brand beyond building the store.
Indeed, establishing a brand means creating the right voice for your business. As a customer, you want a business to be both honest to you as a person and to match your values.
Branding is more than the color or logo; it is what it sounds like and how it communicates. So, try focusing on branding to attract social media followers, especially when posting.
How to sell on Redbubble: Create emotions
Use high-quality images or videos and write catchy descriptions to create an emotional response in your customers, encouraging them to buy from you.
Make sure also to add some personal touches to your Redbubble store. This could be anything from adding a personal message on your Redbubble page to writing blog posts about your creative process.
Showing your personality will make it easier for customers to connect with you and your brand.
How to Sell on Redbubble: 4 Common Mistakes to Avoid
Here are some common mistakes you should avoid when learning how to sell on Redbubble to be successful on the platform.
Making too many discounts/pricing too low
When you sell products on Redbubble, the default commission is 20%. For example, selling a t-shirt for $20 will earn a royalty payout of $4.
Although you may sell more units at lower prices, it probably won't be enough to make up for the lost profit. You may want to lower your commission to compete on price, but most Redbubble sellers recommend against this. Instead, they suggest keeping the price at 20% commission for most products.
This rule has a few exceptions, such as stickers and other lower-priced items. In general, it's best to stick with the standard 20% commission.
Copying existing designs
It's okay to get inspiration from other existing designs, but you should not copy them. Redbubble is very strict about this, and you could get your store banned if someone reports you copying other artists' designs.
Skimping on the design process
Redbubble is a site that focuses on quality over quantity, so make sure your designs reflect that! It would help if you took the time to create excellent designs people will want to buy. If you skip this step and try to rush your design process to create too many low-quality designs, you'll have a hard time making sales.
Trying to appeal to everyone
If you try to appeal to everyone, you will end up appealing to no one. Redbubble is a site where people come to find unique and specific items, so you must focus on a niche market.
Not promoting your store
As we mentioned before, you must actively promote your Redbubble store if you want to make sales. Redbubble is a great platform, but it's up to you to bring customers to your store.
What Are the Alternatives to Redbubble?
Redbubble is a great platform for artists, but it's not the only option. If you're looking for alternatives to Redbubble, here are a few options to consider:
Etsy
Society6
Zazzle
Spring (previously Teespring)
Redbubble vs. Etsy
Regarding print-on-demand sites, Redbubble and Etsy are two of the most popular options. Both platforms are great for artists and makers who want to sell their designs on various products.
Etsy was founded in 2005 and is best known as a marketplace for handmade goods, vintage items, and craft supplies. In recent years, Etsy has expanded to include more manufactured items, including print-on-demand products. Millions of people sell on Etsy.
Redbubble was founded in 2006 and focuses exclusively on print-on-demand products. You'll find a broader range of print-on-demand products on Redbubble than on Etsy.
Etsy is a bit more focused on handmade goods. Etsy also has a slightly higher transaction fee than Redbubble.
Redbubble vs. Society6
Both Redbubble and Society6 offer a wide range of print-on-demand products, from t-shirts to mugs to stickers and more. They also allow users to upload their designs and sell them on their respective platforms.
So, what's the difference between the two?
For starters, Redbubble has a much more extensive selection of products than Society6. They also tend to be a bit cheaper, although the quality is about the same.
Regarding custom designs, Redbubble gives users much more control over their products' appearance. For example, you can choose the shirt color your design is printed on, whereas with Society6, they limit you to the color options they offer. You can also add text to your creations on Redbubble, which isn't possible with Society6.
The most significant difference between Society6 and Redbubble is the pricing model. With Society6, prices are set by the site beforehand, and you get a 10% cut of each sale (except for art prints, which the artist prices). With Redbubble, you have control over your price above the base rate, which you keep.
So, if you're looking for a more comprehensive selection of products and more control over your custom designs and pricing, Redbubble is the way to go.
Redbubble vs. Zazzle
Redbubble and Zazzle are two of the most popular print-on-demand platforms for artists and designers.
Both platforms allow users to upload their designs and sell them on various products, from t-shirts to phone cases. So, which platform is better for selling your designs?
Redbubble is known for its high-quality printing and wide array of product options.
However, Redbubble charges higher fees than Zazzle, and some users have reported issues with customer service.
On the other hand, Zazzle offers lower fees and a wider range of customization options for buyers.
Additionally, Zazzle's strong marketing presence offers users more tools to promote their designs.
However, Zazzle's quality control standards are not as high as Redbubble's, so there is a risk that your design could be printed poorly.
Redbubble vs. Spring (previously Teespring)
Redbubble and Spring (formerly known as Teespring) are both popular platforms for selling print-on-demand designs.
Both platforms offer a wide range of products, allowing sellers to set their own prices. Redbubble also provides a vast selection of design templates, making it easy to create professional-looking products.
Conclusion – Is Redbubble worth it?
Redbubble is a great platform for artists and online entrepreneurs who want to start making money online by selling print-on-demand designs.
Artists on Redbubble marketplaces collectively make more than $100m of revenue yearly, going straight to their pockets after potential tax deductions.
You don't have to worry about inventory or fulfillment; Redbubble will take care of everything for you. This makes Redbubble an excellent choice for those looking for an easy and stress-free way to sell their artwork online.
It's free to join, and you get the benefit of having your products listed on a popular marketplace with lots of traffic.
In this guide, you learned the basics of how to sell on Redbubble, so it's up to you to create success for yourself by acting now.
If you're interested in starting out, sign up today and start uploading your designs!
FAQ
What is Redbubble?
Redbubble is an online marketplace providing print-on-demand designs to millions of customers. Redbubble products are created by thousands of independent designers who sell art on the site. When customer orders are processed, Redbubble can print the digital art onto the product, for example, a t-shirt.
What is the minimum age for selling on Redbubble?
According to its user policies, you must be at least 16 years old to sell on Redbubble. There are no limits for selling on Redbubble other than that. Anyone may quickly register and begin uploading their creations.
How much does it cost to sell on Redbubble?
Redbubble is free to join, and you get the benefit of having your products listed on a popular marketplace with lots of traffic.
Is it worth it to sell on Redbubble?
Yes, Redbubble is definitely worth it. If you're an artist or online entrepreneur looking to start making money online, Redbubble is a great platform to sell your print-on-demand designs risk-free.
Why should you sell on Redbubble?
RedBubbles' success with the art market comes from easy purchasing and complete outsourcing of the products and their shipment. This easy convenience means Redbubble does much of what you do and only takes care of the artwork and the promotion.
Then you can simply upload whatever designs you want without any cost, and you can customize them. It only takes a design upload and printing to have a product ready to sell. Your style can be customized to suit your taste in any given way. Try to get people to visit your online store on Redbubble to buy your printed goods and see your sales growing!
How can I get found on Redbubble?
To increase your visibility on Redbubble, you can start by tagging your products with popular keywords that buyers are likely to search for. You can also join Redbubble forums and participate in discussions to get exposure to your products.
Additionally, you can share your Redbubble store link on social media platforms like Facebook and Instagram to drive traffic to your store.
How much do you make selling on Redbubble?
You can make a lot of money on Redbubble; artists on the marketplace collectively earn more than $100 million in revenue for them every year. It's a lot of RedBubble products to sell!
How much do I earn from my sales?
The artist margin measures how much money you make from each sale, with the markup being the percentage of the base price and the margin being the actual cash amount you get. You can learn more in their help center.
What designs sell best on Redbubble?
T-shirts can make you lots of money. Here is a list of the best designs to sell on Redbubble: Art Prints, Art Board Prints, Canvas Prints, Posters, Photographic Prints, Framed Prints, Metal Prints, and Mounted Prints.