Do you want to create high-quality content for your business faster while saving money? In this Jasper AI review 2023, I'll be sharing my personal experience using this leading AI writing tool and show you how it helped me improve the quality of my content.
With this leading AI copywriting software, you can quickly create high-quality marketing copy optimized for SEO. It's time for your business to shine! You can also use it to write stories, essays, emails, articles, or any other type of writing.
I mainly use Jasper AI for creating blog posts, product descriptions, landing pages, social media posts, and YouTube video scripts.
Fun fact, I created this Jasper AI review with the help of Jasper! Of course, I added my personal touch and ensured that everything you read in this review is correct and reflects my experience with Jasper.
So let's dive into this Jasper AI Review 2023!
Best AI Writing Tool
Jasper AI
Jasper AI is an innovative software that will help you generate high-quality marketing copy to rank on Google and grow your business.
Promotion: Yes, 5-days free trial.
Get a free trial with 10,000 words written by Jasper:
Jasper AI Review 2023: What is Jasper?
Jasper AI software is a content creation tool that uses artificial intelligence to help businesses create blog posts, social media posts, and other types of content.
This cutting-edge AI writing tool is a savior for bloggers, marketers, and content creators.
Especially, Jasper Boss mode is super handy for creating long, engaging blog posts.
The software is easy to use and includes a range of features that make it ideal for businesses of all sizes.
Jasper AI is a powerful content creation tool that you can use to create high-quality content quickly and easily. Indeed, you can create blog posts at a fraction of the time it would take to write the content manually.
In addition, Jasper AI can help businesses to save money by reducing the need to hire expensive content writers.
Jasper AI software is essential for businesses that want to stay ahead of the competition.
Artificial intelligence has entered the room, and it's here to stay, so you better embrace it, or your competitors will.
Keep reading this detailed Jasper AI review to learn more!
Jasper AI Review: How does Jasper AI work?
Jasper AI works by using a combination of artificial intelligence and natural language processing algorithms to help you improve your writing.
Simply use one of the templates, enter keywords and topics as instructed, and the AI writing tool will write for you.
In Jasper Boss mode, you can create long-form articles with the "Compose" feature and advanced editor, on top of all the templates and recipes.
Jasper also includes a free grammar checker with Grammarly and a Copyscape integration to check for plagiarism.
However, Jasper creates unique content, so you'll likely not find duplicate content.
I found Jasper AI to be very helpful in improving my content. The AI app was able to help me improve my grammar, style, and overall quality of my writing.
If you're looking for an AI writing tool that can help you improve your content, I highly recommend Jasper AI.
They offer a free trial, so you can try it out before committing to a paid subscription. Trust me; you won't be disappointed.
Jasper AI is the real deal, and they're quickly becoming the go-to AI writing tool for content marketers and bloggers alike.
Give them a try today, and see how they can help take your content to the next level.
Jarvis AI has rebranded to Jasper AI
When Jasper AI first launched, they chose the name Conversion.ai. They then rebranded to Jarvis AI in homage to the iconic AI character from the Iron Man franchise.
However, they had to rebrand it to Jasper AI due to a trademark issue with Marvel, owned by Walt Disney.
Indeed, legal issues from Disney's lawyers emerged over the Marvel movie Iron Man and Tony Stark's AI assistant, also called Jarvis. Therefore, Jarvis AI was rebranded to Jasper AI.
While the new name may not be as snappy as Jarvis AI, it's a significant improvement over their first name.
Plus, it's more reflective of their core mission, which is to help people manage their daily tasks and improve their productivity. So far, they've been very successful in this endeavor, and their app has received rave user reviews.
In short, the rebranding has been a massive success for Jasper, and they're now one of the market's most famous AI writing tools.
Who founded Jasper?
Dave Rogenmoser is the CEO of Jasper AI. Previously, Dave was the CEO of Proof, a leading marketing agency.
He has always been driven by a desire to find innovative solutions to complex problems. His entrepreneurial spirit led him to create Jasper with Austin Distel, his Chief Marketing Officer.
Together, they have built Jasper into the top player in their field by developing cutting-edge technology and providing world-class customer service.
Who are the ideal customers to invest in Jasper?
Who is Jasper AI made for? Jasper AI is a platform that will help you produce content faster and generate more revenue. Perfect for anyone who wants to be creative with their writing or marketing!
The growth potential is endless with online marketing. From the beginner who's just getting started to experts looking to expand their reach and grow an already successful business – there are many ways that Jasper AI can help you achieve your goals.
If you need blog posts, articles, landing pages, product descriptions, social media posts, ad creatives, or any other type of written content, Jaspers has all you need to achieve your goals.
Jasper is the perfect fit if you are a:
Blogger: Create content faster to spend more time promoting your blog and growing your audience.
Freelance Writer: Get more clients and make more money by writing better content faster with Jasper.
Small Business Owner: Save time and money by creating better content with Jasper so you can focus on running your business.
Affiliate Marketer: Improve conversions by creating more compelling content that engages your readers. Use the AIDA and PAS copywriting frameworks to increase conversion rates. Join the Jasper AI affiliate program, write reviews faster and improve your affiliate earnings.
Youtuber: Create videos faster and grow your channel by releasing new content regularly with AI video scripts. Use video script outlines, hook & introduction, topic ideas, video titles, and video sales letters. Indeed, Jasper can create a unique video script hook for you and take care of your video copy, video description, and more.
E-commerce Store Owner: Write product descriptions, create compelling ads, emails, and landing pages, and increase your traffic and sales with Jasper.
Content Creator: No matter what type of content you create, Jasper can help you do it better and faster.
SEO Expert: Improve your traffic and rankings with better content created with Jasper and its Surfer SEO integration.
Marketing Agency: Create better content for your clients and grow your agency with Jasper.
If any of those descriptions sound like you, then Jasper AI is worth considering!
Jasper AI Review: Top 5 Benefits of Using Jasper AI
Here are the top 5 benefits of using Jasper AI that I experienced:
Boost your Productivity – Jasper AI can help you write copy much faster than you could on your own, allowing you to focus on other essential tasks. End writer's block forever!
Boost Sales: Improve the quality of your marketing copy – With Jasper AI's help, you will produce high-quality content that will resonate with your audience and bring sales. Jasper AI helps you create content that is both effective and engaging. Indeed, expert copywriters trained Jasper AI.
Organize Your Work – By using Jasper AI, you'll have a clear plan for each text you create, ensuring that everything is cohesive and on-brand.
Updates: Jasper AI is constantly learning and evolving. Every day, it gets a little better at understanding your needs and helping you write copy that converts. It relies on GPT-3 AI model from OpenAI, financed by Elon Musk, Microsoft, and others.
Save Money: Jasper AI is a cost-effective solution for content creation, allowing you to get the most bang for your buck. With Jasper, you don't have to hire expensive copywriters.
Jasper AI Reviews & Ratings from Customers
The tool is rated 5 stars in 3,000+ Jasper AI reviews on Trustpilot.
Here's what people are saying about Jasper AI:
"I love Jasper AI! It's so easy to use, and it gives me the superpower of being able to write high-converting copy and blog posts super fast. Jasper has saved me so much time and money, and I've seen a great increase in conversions since using it."
"If you're like me, you hate writing copy. It's tedious, time-consuming, and often frustrating. That's why I love Jasper! This AI copywriting tool makes it easy to create high-quality copy for all my marketing needs. With just a few clicks, I can generate powerful copy that will help increase my conversions and ROI. Plus, it's super easy to use – even someone like me can do it! Jasper is a must-have for anyone who needs help writing copy and content."
"I found the templates for creating Facebook Ads and Google Ads to be very helpful and easy to use. Overall, Jasper is excellent for creating ads and other marketing copy."
Jasper AI Overview
User Interface
The first thing I noticed about Jasper AI was the interface. It's very user-friendly and easy to use.
Even if you're unfamiliar with AI, you'll be able to figure out how to create blog posts and generate AI content.
The editor is also very user-friendly. You can create a blog post outline, and Jasper AI will do the rest.
Jasper AI Features
Long-form assistant
You need the Boss Mode plan to access their custom Google Style editor and write long-form articles.
It's the most expensive plan, but it's worth it if you're a content writer or blogger who wants to up their game.
The long-form assistant is fantastic. It has helped me improve my writing by leaps and bounds. I highly recommend it.
Templates
What content templates does Jasper AI offer?
Jasper AI offers a wide variety of templates (50+) to help you get started with your content.
You can choose from a variety of categories, including:
Blog Post Topic Ideas
If you're looking for new blog post ideas that will engage readers and rank well on Google, Jasper is your AI content tool.
With Jasper, you can generate dozens of new blog post topics in minutes. Simply enter a few keywords, and Jasper will do the rest. From there, it's up to you to choose the best topic for your blog post.
But with so many options at your fingertips, you're sure to find new blog post topics that resonate with your audience.
And because Jasper uses AI to generate content ideas, you can be confident that your blog posts will be relevant and informative.
Blog post outline
You can use this template to create lists and outlines for blog posts. Jasper works best using the Blog Post Outline template on "Listicle" and "How to" style blogs or articles.
Blog Post Intro Paragraph
Let Jasper write your opening paragraph to blast through writer's block.
Blog Post Conclusion Paragraph
After you've finished your blog article, twist it with an engaging blog post conclusion paragraph.
Paragraph Generator
The Jasper AI template for creating paragraphs is a great way to make your content more exciting and engaging. This tool can generate captivating texts that keep readers coming back!
Whether you're writing blog posts or ebooks, the Paragraph Generator will help you get the most out of your AI writing assistant. With this template, you can create paragraphs that are concise, well-written, and packed with information.
So if you're looking for a way to generate AI content that will captivate your audience, use the Paragraph Generator template in Jasper AI.
AIDA Framework
The AIDA framework is the oldest marketing framework in the world, and it is still relevant today. AIDA stands for Attention, Interest, Desire, and Action.
The idea is to get the reader's attention, then generate interest in the product or service. You then need to create a desire for the product or service. Finally, you need to get the reader to take action.
You can apply the AIDA framework to copywriting, and it's a helpful tool for creating compelling product descriptions, blog posts, and long-form content.
Jasper AI is a tool that can help with this by providing AIDA-optimized copywriting templates. With Jasper AI, you can create compelling marketing content to help you achieve your business goals.
PAS Framework
If you're looking for a way to create content that sells, you need to check out the PAS framework. It stands for Problem–Agitate–Solution, and it is a special tool that can help you come up with unique marketing content ideas.
Indeed, the PAS framework is a handy marketing strategy that helps you create compelling product descriptions and other marketing copy.
It helps you identify the problem your product solves, agitate the pain points your customer is experiencing, and then offer a solution.
This three-step process is essential for creating content that resonates with your audience and drives conversions.
So if you're serious about selling more products, remember to use the PAS framework.
Content Improver
Creating great content can be challenging, whether you're writing an article, a blog post, or a product description. Knowing how to make your content more interesting, engaging, and creative is often tricky.
That's where the Content Improver template from Jasper AI comes in.
With this AI tool, you can rewrite any piece of content to make it more compelling.
Whether you're looking for ways to improve your blog posts or create more compelling product descriptions, the Content Improver template is a great way to get started.
So why not give it a try? You might be surprised at how much better your content can be.
Explain it to a child
Rephrase text to make it more readable and understandable. It's that simple.
Email Subject Line
Create attractive email subject lines that entice recipients to open the message.
Commands
With a command, tell Jasper what to write. Give Jasper any background information you have and give it a command to follow. Jasper's commands are handy for getting things done fast.
Personal bio
Make a unique personal bio that piques people's interest on social media.
Content and Copywriting Templates + my Favorites
Knowing which will work for your needs can be challenging with so many templates. Luckily I've created this list of my favorite Jasper templates!
Here are just some examples – each template has its own set-up with different options you may find helpful in creating the perfect copy from scratch:
Documents
Jasper Commands
Paragraph Generator
Content Improver
Product Description
AIDA Framework
PAS Framework
Blog Post Outline
Blog Post Intro Paragraph
Blog Post Conclusion Paragraph
SEO – Blog Posts – Title and Meta Descriptions
Perfect Headline
Explain it to a child
Video script hook,
Video script outline
Performance
AI template outputs – examples
Here are some examples of what you can expect from using the Jasper AI tool.
Pros and Cons of Jasper AI Writing Tool
Pros
Best AI output quality I have experienced in AI copywriting tools. Jasper is super creative and professional with deep copywriting knowledge.
Write long-form content that ranks on Google.
50+ Templates: You can use any of the 50+ templates that come with Jasper AI for each use case. Generate content for social media, blogs, product descriptions & more.
Integrations with SurferSEO to rank on Google, Grammarly to fix spelling mistakes, and Copyscape to check for duplicate content.
Tone of Voice: choose any tone of voice you like, even from a celebrity, and Jasper will write in this style.
Cons
Jasper can repeat itself if you don't know how to deal with it. However, when registering, you get access to training showing you how to deal with Jasper.
Research: Jasper is an excellent creative content writer, especially for marketing copy that sells. However, like other AI copywriting tools, it doesn't do research for you. So, you'll have to fact-check or feed him the information he can write about.
Cost: you need the Boss Mode to write long-form content, which is more expensive. However, you get 2 months free if you pay yearly. This plan makes sense if you need to write often and make money from your content.

Also, Jasper takes from your word quota each time you generate AI output, even if you don't keep everything due to quality issues. If you reach your monthly allocation, you'll have to upgrade your plan or wait for the next billing period to reset your quota. It's okay for me as I don't write more than 50,000 words per month, so I stay within their limits.

Finally, you'll have to pay extra for SurferSEO even if you get your first month for $1 when you register via Jasper AI.
Jasper AI Pricing Plans
The pricing plans for Jasper AI are reasonable. The Starter Plan starts at $29 per month, and the premium Boss Mode plan for long-form articles begins at $59 per month.
You will get the most out of your Jasper AI subscription if you often write as you pay per word with a minimum monthly quota.
Both plans give you unlimited projects to organize your work or your various clients in folders.
1. Starter Plan ($29/mo+, starts at 20K words/mo)
The Starter Plan is perfect if you only create short-form content.
You can create product descriptions, ads, a blog post introduction paragraph, blog post topic ideas, or improve your existing texts.
Here are the main features you get with this plan:
Min 20K+ word count
50+ AI copy templates
20+ languages
Up to 5 users
2. Boss Mode ($59/mo+, starts at 50K words/mo)
This plan is the real deal. If you plan to create long-form content like blog posts or ebooks, you need the Boss Mode. You get all the features in the Starter Plan, plus access to advanced features:
Google Docs style editor: You can now work on your content directly in the Jasper interface.
Long-Form Assistant: Get help writing long-form content like ebooks and blog posts.
Compose feature: click the "Compose" button and see Jasper write the rest of your text in real time, depending on the context.
Jasper Commands: If you're looking for a way to take your blog post writing from good but not great and turn it into something incredible, then look no further than using the Jasper Command feature. With a command, tell Jasper precisely what to write. You will exponentially reduce the time spent on crafting articles while achieving maximum engagement rates.
Higher-Quality Outputs: Jasper will read more of your content than the Starter Plan to have better context and create better-quality AI outputs.
Flexibility: you can get more extended outputs from templates and add more instructions to Jasper for better-quality content.
Priority Support: via live chat in less than 1 minute during business hours.
My Experience Using the Jasper AI Writing Tool
At first glance, Jasper appears to be yet another content-writing tool.
However, after using it for many months before writing this Jasper AI review 2023, I found that it has some unique features that really set it apart from the competition.
And it has the best AI output quality, in my opinion.
For one thing, Jasper AI is specifically designed for blog articles and SEO-optimized content with key integrations. It means that you can quickly and easily create well-written, keyword-rich articles that will please your readers and search engines.
The interface is user-friendly, and the Boss Mode plan is especially helpful in keeping me focused while I write. Jasper AI also does a great job of creating a blog post outline, blog post workflow, and long-form content.
I also use the Surfer SEO integration that suggests keywords that would help my articles rank higher in search engines.
Overall, I'm very impressed with Jasper and would recommend it to anyone looking for a powerful yet easy-to-use content writing tool to streamline their content creation process.
My Jasper real-life use cases
I use Jasper to create:
long-form articles
product descriptions
social media posts
Facebook and Google ads: create a Facebook ad headline instantly.
improve my existing texts.
I used Jasper to write this Jasper AI review and many other articles on Ecombridges.
Don't trust Jasper's AI text unless you double-check it.
Jasper is an excellent writing assistant, NOT a standalone AI content creation tool. Just be sure to review the text Jasper produces before publishing it.
Indeed, Jasper is a creative writer with marketing knowledge, but he doesn't always know the facts, so you'll have to pay attention to that.
It takes practice to achieve consistent, reliable results using Jasper Boss mode for greater control.
If you are looking for an AI tool to help improve your writing, I recommend Jasper AI. It is an excellent writing assistant that can help you create better content.
Do I Recommend Jasper AI?
Jasper AI is a copywriting tool that promises to help you write better blogs in less time. I decided to put Jasper to the test and see if it could help me overcome my worst enemy: writer's block.
Jasper AI did not disappoint.
The Jasper AI app is easy to use and has various features that can help you write more engaging content. With Jasper, I can write blog articles in half the time it usually takes.
Plus, the articles are more likely to convert visitors into customers.
Indeed, backed by AI and machine learning, Jasper is a content writing tool that will help you write articles faster and with more engaging content than ever before.
I highly recommend Jasper to anyone who wants to save time by speeding up the writing process.
You will create better blog articles, product descriptions, or social media content with Jasper.
Jasper AI + Surfer SEO – Create Blog Posts That Rank on Google
With its Surfer SEO integration, the Jasper AI tool is a powerful way to write articles that rank on Google.
Indeed, the tool integrates with Surfer SEO to help optimize the blog post for Google search.
Surfer SEO is a powerful tool that analyses your competitors on the first page of Google and tells you precisely what you have to do to increase your chance of ranking.
It gives you a content score depending on the number of words you should write and the number of headings, paragraphs, and images it finds in top competitors' articles.
Above all, Surfer SEO does an NLP analysis (natural language processing) to tell you which keywords you should include in your article and how often. Google itself uses NLP to assess the quality of an article and understand search queries.
Surfer takes all this data into account to help you write a blog post with a much higher chance of ranking on Google.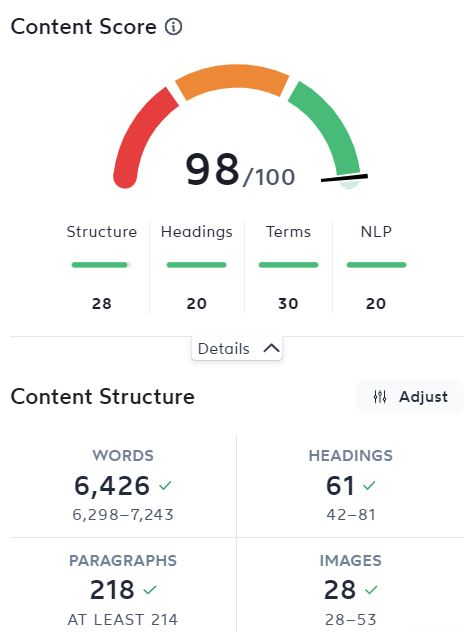 Using Jasper to write my blog posts helped me improve my content and get better results. I have ranked many articles on Google after using SurferSEO.
In my opinion, the Jasper AI writing assistant, coupled with Surfer SEO, is an essential asset for any business that wants to rank on Google.
How to Write Articles with Jasper AI
You may be wondering how to write blog posts with Jasper.
Here is how to use the AI writing tool:
Blog Post Workflow
With the long-form assistant in the Boss Mode plan, Jasper uses the context you give it to create a list of potential titles for the blog post. For context, provide Jasper with a few keywords and explain what you want him to write.
Select the title you like or edit it before asking the AI tool to suggest various introduction paragraphs.
You can edit the draft, add headlines, and ask Jasper to create the blog post outline using the "Compose" button, Jasper commands, or templates before adding your own voice.
How to give Jasper AI a personality
When creating content with your AI, it's essential to give it personality. After all, your AI will be the one interacting with your readers, and you want it to come across as engaging and entertaining.
But how do you go about giving Jasper a personality?
One way is to choose a tone of voice for your content. This tone should be consistent throughout the entire blog post.
You can make Jasper sound witty, professional, friendly, or even sarcastic, depending on the tone you want to set. Make sure that whatever style you choose is in line with the overall tone of your blog.
Another way to give Jasper a personality is to create unique content. This means thinking outside the box and coming up with a creative story that will capture the interest of your readers.
Remember, your goal is to make Jasper stand out from other AI content, so take some time to brainstorm ideas that will grab attention.
By following these tips, you can ensure that Jasper has a strong personality that will engage and entertain your readers. Whatever you do, make sure your content is original and engaging.
By following these tips, you'll be well on your way to creating content that both Google and your readers will love.
So don't be afraid to get creative – your AI will thank you for it!
A quick way to create better content with Jasper
Jasper is the best way to create content that will please your readers and search engines.
Generate AI Content
You can ask Jasper to generate AI content via the Compose button or the templates in Power mode.
You can also specify the type of content you need, such as an article, blog post, or even a product review.
Jasper will take your prompt and create a high-quality piece of content in minutes. All you need to do is edit it for style and voice.
How You Can Use Jasper's Content Enhancer to its Full Potential
With Jasper's Content Improver template, you can quickly create SEO-optimized blog posts that are sure to get noticed.
Give Jasper the text you want to improve, and the Content Improver template will create a better-written, more engaging version.
How to use Jasper AI recipes
One of the things I like most about Jasper is the recipes feature.
Recipes are templates that you can use to help you structure your content. For example, there is a recipe for creating a FAQ page. All you have to do is fill in the blanks, and Jasper will automatically generate the rest of the content for you.
You can also use recipes to create blogs, product reviews, and even social media posts.
To use the recipes feature, click on the "Recipes" tab and choose a featured recipe or create a new one.
Here are some of the recipes already created for you by the Jasper team and the vibrant community of Jasper users:
Cold Email: Use the AIDA model (Attention, Interest, Desire, Action) to compose the ideal cold email and increase your sales.
Blog Post: Create a quick blog article in 5 minutes with this recipe!
The Idea Factory: The Idea Factory's quick and straightforward method of generating fantastic ideas creatively will get you started on the right foot.
Facebook Ads: Create a Facebook Ad that will engage and intrigue your potential customers. Put the PAS approach to work (Problem, Agitate, Solution).
Product Review Blog Post: Learn how to produce 10X more product review blog articles in the same amount of time. This is the ideal recipe to increase your blogging production and improve your affiliate website sales.
Rewrite / Expand Blog Posts (or other content): You want to be able to rewrite or expand old blog entries or material quickly. Rewriting and expanding your previous writings might help you attract more people, strengthen your brand, and perhaps even make money.
I've found the recipes feature to be helpful in several ways.
First, it helps me to improve the quality of my content. Recipes are beneficial for creating blog posts because they help me stay on track and keep my thoughts organized.
Second, it helps me save time by having a pre-defined structure I can follow.
Is there any training available for Jasper AI?
No AI platform is complete without a comprehensive training program to help new users get up to speed. Jasper is no exception.
The Jasper team offers the Jasper AI Bootcamp: a 45-minute video course that covers best practices for using the platform. The course is free, and it's a great way to learn the ins and outs of Jasper.
In addition to the Jasper AI Bootcamp, the Jasper team also offers regular training sessions on various topics related to using the platform. These sessions are an excellent opportunity to learn more about how to use Jasper AI, and they're also a great way to meet other users and get tips and tricks from the experts.
Whether you're new to Jasper AI or an experienced user, the team's training program is an excellent way to ensure that you're using the platform effectively.
You also have the Jasper AI Facebook group with a vibrant community of 60K+ Jasper users. The official community is very active, and you will learn all the tips and tricks from other Jasper users.
Jasper AI Customer Support Options
If you're looking for top-notch customer support for your AI software, look no further than Jasper. Their team in Austin, Texas, is ready to help you with whatever you need.
And with their Boss mode, you'll get 3X faster priority support from the Jasper AI support team.
You can also join Co-Founder Chris Hull weekly for a live onboarding call with Q&A.
Plus, you'll have access to the world's best community for creating AI content with over 60,000 members.
And if you want to learn best practices for using Jasper, watch their signature 45-minute free course.
So if you're looking for outstanding customer support for your AI software, Jasper is the way to go.
Frequent Updates to the Platform
If you're a machine learning and AI fan, you'll be happy to hear that they constantly update Jasper.
The team behind Jasper is always listening to the community and improving the quality of AI outputs.
Additionally, Jasper AI relies on GPT-3 from OpenAI, which is also constantly evolving.
With GPT-4 artificial intelligence on the horizon, Jasper will offer even more impressive AI content creation capabilities in the future.
So if you're looking for a platform that can keep up with the latest and greatest in machine learning and artificial intelligence, Jasper AI is worth checking out.
Jasper Refund Policy
Jasper AI offers an unconditional 5-day 100% No-Risk Money Back Guarantee.
If, for any reason, you're not happy with Jasper AI, contact the team within five days of purchase, and they'll refund your money, no questions asked.
So why not try out Jasper AI today and see how it can help you improve your content? You have nothing to lose!
FAQ
What is Jasper AI Copywriting Tool?
Jasper AI is an artificial intelligence copywriting tool that helps businesses create content for their website or blog.
With Jasper AI, businesses can write blog posts, social media posts, product descriptions, and even create marketing materials such as ebooks.
The best part about Jasper AI is that it can help businesses save time and money by writing content for them. In addition, Jasper AI can also help companies to improve their search engine optimization (SEO) by creating keyword-rich content.
Jasper AI is an excellent tool for businesses that want to create high-quality content without spending much time or money.
Who is Jasper?
Jasper is a robot who helps you with your writing. He makes sure your grammar is correct and that your ideas are clear. He writes engaging content for you, so you don't have to worry about it!
Can Jasper Write Better than a Writer?
Jasper writes better than many writers, especially for marketing copy. Indeed, Jasper is an artificial intelligence trained by expert copywriters, so it can write engaging content that converts.
However, you have to do fact-checking as Jasper is a creative writer, but he can write non-factual information.
Jasper is definitely your best bet if you need an AI copywriting tool to help you write content. It can help you write entire blog posts or just sections of content.
Regardless, Jasper is an excellent resource for content writing, and you should not overlook it.
Does Jasper AI Offer A Free Trial?
Hesitation is understandable when considering handing over your content marketing to an AI tool.
However, with Jasper's 5-day free trial and Jasper's money-back guarantee, you can try it out for yourself with no risk and see how he can help you improve your content.
How Much Does Jasper AI Cost?
You have 2 main plans: Starter and Boss Mode:
Starter: $29/mo for 20K words/mo, up to $399/mo for 320K words/mo.
Boss Mode: $59/mo for 50K words/mo, up to $600/mo for 700K words/mo. It's the most popular plan for bIt'sers and content marketers. If you want Jasper to write 100K words/mo of AI content, you'll pay $99/mo.
To get 2 months for free, switch to yearly billing and save 16%.
Special limited free trial offer:
Get 10,000 words written by Jasper for free:
Why Jasper and not another AI Writing Tool?
So, how does Jasper compare to other AI tools? In my experience, I got the best AI output quality while using Jasper.
I also like their SurferSEO integration, which other AI writing tools don't have. Indeed, it's nice to write articles, but you want them to rank on the first page of Google.
Otherwise, it's a waste of time and money. Surfer SEO helps you do just that.
They also offer 50+ templates depending on your use cases, much more than many competitors.
I also like that Jasper is a general multi-purpose AI so that I can use it for anything, from long-form blog posts to ads, product descriptions for my online stores, email marketing, and more.
I also appreciate the commitment of the Jasper team to release new features and listen to the active community of 60K+ Jasper users. Jasper gets better every day, which is nice.
However, Jasper is not the cheapest AI copywriting tool; you pay for quality. There are more affordable AI tools. So, if you're on a budget, you may consider some of Jasper's alternatives.
How can I use the Jasper AI Writing Tool to Write Blog Posts?
In Boss Mode, you can use the long-form assistant to write entire blog posts:
Click "Documents" and then the "New" button.
Choose "Blog post workflow" (recommended) or start from scratch.
Describe the content you want to create with a few sentences and keywords to give Jasper a bit of context.
Click the "Generate ideas" button so Jasper will suggest some great titles.
Do the same for the intro paragraph; Jasper writes it for you.
Click "Open editor."
Now that you have your title and introduction paragraph, you can add relevant headings so you know what to write about.
Then, under each heading, start writing and hit the "Compose" button so that Jasper can write for you.
For each paragraph, ensure you give relevant context to Jasper in the left pane: title, content description, tone of voice, keywords, and output length.
Or you can use a template like the Paragraph Generator accessible from the Power mode at the top center. Use the Content Improver template when needed.
If you have Surfer SEO, you will optimize for keywords along the way.
When you finish your body text, use the Blog Post Conclusion Paragraph template in power mode so that Jasper will write your conclusion for you with the right call to action.
How can I create a compelling Amazon product description?
You can use the following Jasper templates to create a compelling Amazon product description:
Amazon Product Description (paragraph): Create engaging product descriptions for Amazon listings. The output is usually a paragraph, but it varies.
Amazon Product Features (bullets): Make feature and benefits bullet points for Amazon listings you place under the "about this item" section.
Tell me about the Jasper Boss Mode
Boss Mode is a long-form assistant that allows you to write content faster and easier.
With Boss Mode, you can easily create and manage your writing projects.
Boss Mode also provides writing tools to help you get the most out of your content.
With Boss Mode, you can:
Create long-form blog articles.
Optimize your articles for SEO.
Get more done in less time with Boss Mode's writing tools.
Stay organized and focused with Boss Mode's Google-style editor and project management tools.
Write better quality content with Boss Mode's editing and proofreading tools.
Boss Mode is the perfect way to get more done in less time.
So why not try it out today? You may find that Boss Mode is the boost you've needed to take your writing to the next level.
Conclusion – Jasper AI Review
In this Jasper AI review, we explored why Jasper is the leading AI copywriting tool and how it can help you write your marketing copy faster with more engaging content.
We reviewed the pros and cons of Jasper AI. Jasper AI is an excellent tool for affiliate marketers, bloggers, online store owners, marketing agencies, freelance writers, and other content creators.
Suppose you're looking for a fast, easy way to create high-quality marketing copy, long-form blog posts, social media content, product descriptions, emails, or any written content optimized for conversion. In that case, Jasper AI is the tool for you.
With its artificial intelligence and machine learning capabilities, Jasper can help you write better content faster than ever.
Jasper has helped me tremendously, and I use it daily to skyrocket my content creation process and get an edge over my competition.
Jasper AI is your tool if you want to write better copy faster.
You can try it out for free today. Happy writing!
Can you spot Jasper in the content? Let me know in the comments!
About The Author